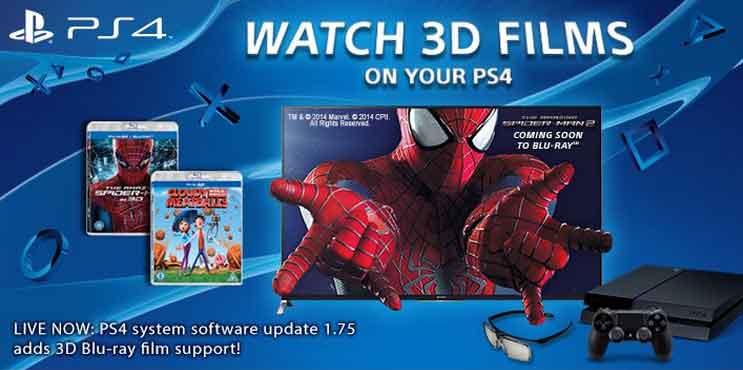 Sony's latest system update 1.75 for PlayStation 4 is now available and among other improvements includes support for 3D Blu-ray. The update comes just a week after the 1.74 update issued last week, and also includes sound quality improvements for Blu-ray Disc and DVD content at 1.5x playback speed. There's also a featured content update that will automatically download and upload if you choose, that will run while the PS4 is in on or standby mode. And, for some reason Sony has decided to move the system messages from the top-right corner to the top-left corner. The system update, released July 29, comes just a day in advance of today's release of The Last of Us for PS4 – the award-winning exclusive PlayStation game from Naughty Dog.
Main features in system software update 1.75
Playback of Blu-ray 3D™ is now supported.
Sound quality has been improved during 1.5x playback with Blu-ray Disc™ and DVD videos.
System messages previously displayed on the top-right corner of the screen are now displayed on the top-left corner of the screen.
[Featured Content] has been added to (Settings) > [System] > [Automatic Downloads and Uploads].
When this setting is enabled, featured content from the PlayStation®Store is automatically downloaded while the PS4™ system is either powered on or in standby mode.
To download while in standby mode, go to (Settings) > [Power Save Settings] > [Set Functions Available in Standby Mode], and then turn on [Connect to the Internet].