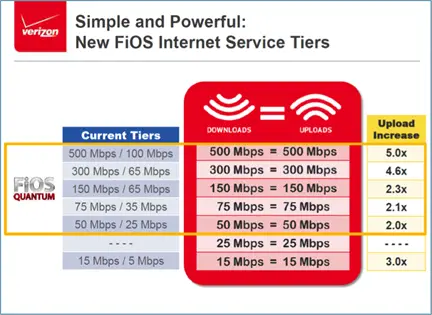 Here's an incentive to start sharing more of the content you create. Verizon announced today increased internet upload speeds across all tiers that match download speeds. So, for example, if you've got the FiOS Quantum 150Mbps tier your upload speed will also now be 150Mbps, reflecting 2x the previous upload speed of 65Mbps. Those with the top-of-the-line 500Mbps will receive 5x the upload speed – a generous proportion considering all the upload increases come at no extra charge. (See the chart for all tier upgrades.)
How does the upgrade affect uploading HD video files? Verizon (using data from Fowler Abercrombie), clocks a 5GB 2-hour HD video at 27.30 minutes with 25Mbps upload speed. At 50Mbps, that upload improves to half the time at 13.65 minutes. With 150Mbps, the same 5GB file should theoretically be uploaded in 4.55 minutes.
Verizon will be rolling out the upload speed improvements throughout the fall, starting with customers who are enrolled in the My Rewards+ program. Customers who are not enrolled can sign up and get the upgrade quicker, or hang around until the upgrade starts automatically in the upcoming months.
Source: Verizon