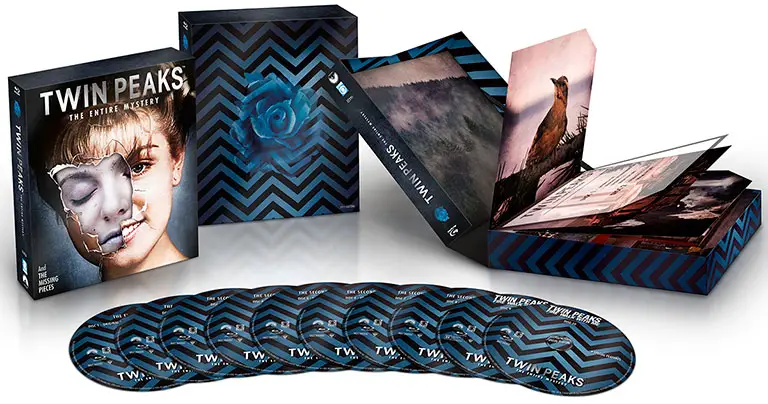 CBS Home Entertainment and Paramount Home Media Distribution have announced what will be the ultimate Blu-ray collection for fans of the TV series Twin Peaks. The 10-disc boxed set, titled "Twin Peaks: The Entire Mystery," contains all episodes of the "Twin Peaks" television series (1990-1991) in high-definition with English 7.1 DTS-HD Master Audio surround sound. If the episodes aren't enough, "The Entire Mystery" includes the 1992 film Twin Peaks: Fire Walk With Me, accompanied by almost 90 minutes of deleted and alternate scenes. The David Lynch film has been newly transferred from a 4k scan of the original negative, and the new content directed and edited by Lynch.
The collection contains the original version of the pilot show, as well as an alternative international version. Each disc features loads of bonus material including image galleries, previews, recaps, outtakes, featurettes and deleted scenes.
New content in "Twin Peaks: The Entire Mystery" that has never been seen before and is presented in HD includes "A Slice of Lynch: Uncut," "The Missing Pieces: Deleted/Alternate Scenes," "Between Two Worlds," and "Moving Through Time: Fire Walk With Me Memories" among other new material.
The collection also features high-definition versions of the Log Lady episode introductions that have been transferred from recently unearthed 16mm film negatives.
The cult television series from David Lynch and Mark Frost won three Golden Globe awards including Best TV Series – Drama, Best Performance by an Actor (Kyle MacLachlan), and Best Performance by an Actress in a Supporting Role (Sherilyn Fenn).
'Twin Peaks: The Entire Mystery' will release on July 29, 2014 with a suggested MSRP of $109.99. Want more details? Here's a link to a breakdown of all 10 discs and the bonus material included on the 'Twin Peaks: The Entire Mystery' collection.