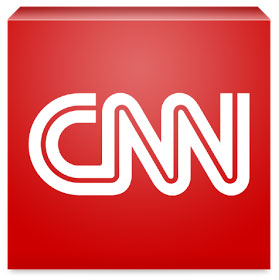 You probably get plenty of alerts to update apps on your phone and tablet, and sometimes it's hard to keep up with all the new versions. This one from CNN is does a bit more than fix some bugs, but many users are not happy with the changes. CNN has rebuilt and redesigned the CNN App for Android, making it universal for both phones and tablets. The app includes an updated navigation, breaking news headlines at the top of the homescreen (which you can optionally close), full screen galleries, and the new ability to comment on stories while using your phone. Another social aspect of the update enables you to send photos or videos directly to CNN through iReport on the home screen. You can also follow other iReporters who contribute stories to CNN.
Some live and recorded CNN shows are available through the app, but content may vary depending on your TV service provider. Local weather information is accessible, although many users are complaining that it sticks to weather feeds from Atlanta, Georgia. For those of you wearing Samsung Galaxy Gear, you can sync your wearable device with select Android phones (not new, but still a developing feature).
But with the new useful features came a revised interface design. In addition to the buggy weather update, users have posted plenty of negative reviews. One user on Google Play says, "the old way was much better." Another reviewer calls the update "a giant leap backwards." Other users say the new interface borrows too much from Flipboard, and that the old interface displayed more headlines and was more useful.
Still, making the app universal for both Android phones and tablets may have made CNN's life easier. But there is a huge difference in screen size between phones and tablets. From the bulk of reviews, users don't want large photos and giant headlines with special effects. They want a more practical application similar to what BBC does with their app.
Sometimes a simple, clean and fast way to access news topics is a usability consideration that's easily forgotten.
The 12MB app is available at the Google Play store and requires Android version 2.3 or higher.