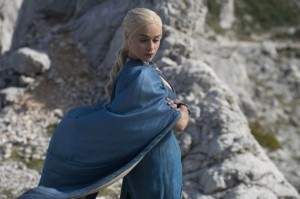 Missed a few past episodes of Game of Thrones? You still have some time to catch up. As part of Comcast's Xfinity Watchathon week, the cable TV service provider is offering all previous episodes of Game of Thrones free On Demand before Season 4 of the series premieres tonight at 9 p.m. ET / 8 p.m. CT on HBO. Since 2011, HBO has broadcast 30 episodes spanning three seasons of the hit show based on George R.R. Martin's A Song of Ice and Fire series of novels.
Other TV show series available On Demand for Xfinity TV customers during the marathon include Archer, Bates Motel, Brooklyn Nine-Nine, Da Vinci's Demons, Downton Abbey, Hannibal, Justified, The Mindy Project, The Walking Dead, and Trophy Wife.
Get your DVR recording now, however, because the Watchathon ends tonight.
Many other TV providers are offering free previews HBO and Cinemax this weekend through tomorrow, April 7, including DirecTV, AT&T U-verse, Dish, and Verizon FiOS TV.