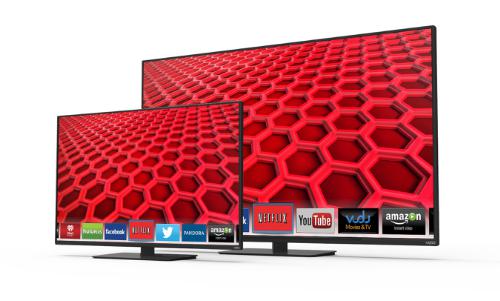 VIZIO's has announced their new E-Series line of 1080p LED HDTVs are now available at retailers across the US including Amazon, Best Buy, Costco, Sam's Club, Target, and Walmart. With  improved Smart TV integration, enhanced clarity with deeper black levels, and slimmer design, VIZIO has improved upon previous models and added value to the E-Series lineup.
The TVs come in a variety of screen sizes from 23 to 70-inches, and range in price from $159.99 (23-inch E231) to $899.99 (60-inch E600i). VIZIO didn't provide MSRPs for its 65-inch and 70-inch models, but we expect them to be considerably less than the Razor Class models of the same size.
The VIZIO sets feature advanced local dimming technology, Full-Array LED backlighting on most of the new models, and up to 18 Active LED Zones for better light uniformity.
The larger screen models also feature an Effective Refresh Rate of 120Hz, and the 48-inch E480i model and higher include Clear Action 180.
The E-Series include built-in Wi-Fi, and Smart TV functions with VIZIO Internet Apps Plus. Amazon Instant Video, iHeartRadio, HuluPlus, Netflix, VUDU and YouTube are among the available apps to use with the TVs, and VIZIO says new apps such as AirCastLive, Plex, and Spotify will be available soon.
"VIZIO is focused on presenting consumers with an entirely new value proposition by enhancing the picture quality and performance of the E-Series collection," said Matt McRae, Chief Technology Officer, VIZIO.