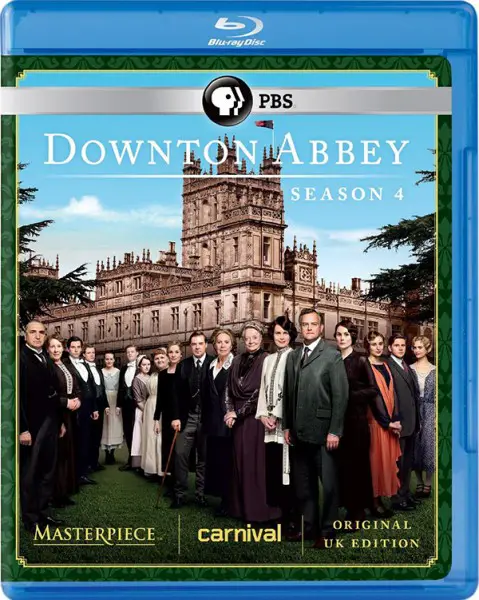 This week the U.K. edition of Masterpiece's Downton Abbey Season 4 is now available in a three-disc Blu-ray edition from PBS. The popular series set in the fictional Yorkshire country estate stars Maggie Smith, Hugh Bonneville, Michelle Dockery, and Elizabeth McGovern among others.
Johnny Knoxville stars in Jackass Presents: Bad Grandpa (Unrated) now available from Paramount in a two-disc edition packaged with a DVD and Digital Copy.
Sony Pictures' Cloudy with a Chance of Meatballs 2 hits shelves as a two-disc combo with or without a 3D copy. The 3D version is priced about $7 more than the 2D-only edition at Amazon and both editions also include a DVD and UltraViolet Digital Copy.
And, Rush starring Chris Hemsworth, Daniel Bruhl, and Olivia Wilde is now available in a two-disc edition that includes a Blu-ray Disc, DVD, and Digital HD copy via UltraViolet.
Last Vegas, Metallica – Through the Never, 1 The Movie (Formula One), and The Long Day Closes from Criterion Collection are also new on Blu-ray this week.
See our picks for the week below. And, jump over to Amazon
to see all new Blu-ray Disc releases this week.
New Blu-ray Disc releases, Jan. 28, 2014
Masterpiece: Downton Abbey Season 4 (U.K. Edition)

Jackass Presents: Bad Grandpa (Unrated)

Cloudy with a Chance of Meatballs 2

Rush

Last Vegas

Metallica – Through the Never

1 The Movie (Formula One)

Argento's Dracula

Frankenstein Created Woman

The Fifth Estate

Bonnie & Clyde

The Long Day Closes (Criterion Collection)

Treme: The Complete Fourth Season