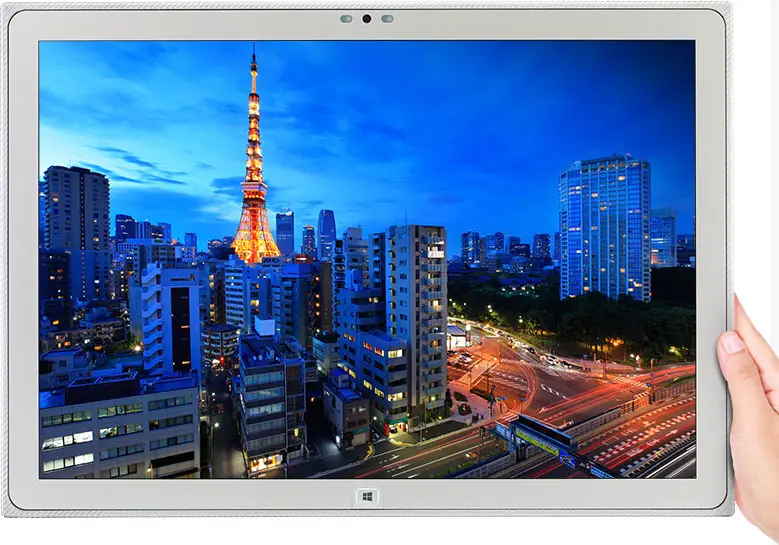 AT CES 2014, Panasonic will showcase the Toughpad 4K tablet with 20-inch IPS Alpha LCD display. The tablet is the first to offer 4k resolution, at 3840 x 2560 (230 PPI) and 15:10 aspect ratio. The Toughpad's CPU is an Intel Core i7-3687U vPro processor (w/4MB cache, up to 3.3 GHz) incorporating Intel Turbo Boost Technology. The graphics processor on Panasonic's 4k Toughpad is a state-of-the-art NVIDIA Quadro K1000M GPU (w/2GB VRAM).
The Toughpad includes 256GB SSD (Solid State Drive) for storage, and 16 GB RAM with 2GB VRAM for memory. Cameras on the tablet include a 5 MP rear camera and 1280 x 720 pixel front camera.
Connectivity/Input & Output options include a Mini DisplayPort, Intel Centrino Advanced-N 6235 Wi-Fi 802.11 a/b/g/n, Bluetooth v4.0 (Class 1), USB 3.0, SDXC card slot, smart card reader, docking connector, and Gigabit Ethernet LAN port.
Along with the 20" tablet, you can also pick up the Panasonic Electronic Touch Pen that offers 2,048 levels of pressure sensitivity and accuracy at a pixel level. The pen also works with Panasonic's standard Toughpad tablet model.
The Toughpad is as heavy as a large laptop at 5.6lbs, but keeps a low profile at 0.49 inches.
As far as OS, the Toughpad is optimized to run on Windows 8.1 Pro.
The Panasonic 20" Toughpad model will be available in Spring, 2014, for a list price of $6,999.
CES 2014 visitors can check out the Toughpad at Central Hall Booth #9806, in Las Vegas.