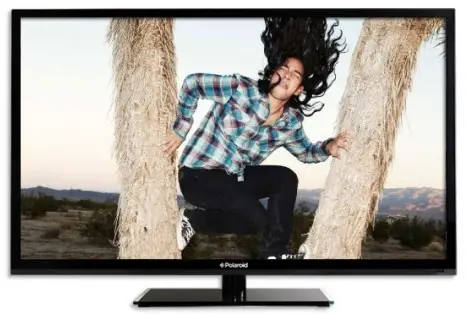 At CES 2014 in Las Vegas, Polaroid will debut a 50-inch LED 4k Ultra HD TV for an "affordable" price of $999. The set, with model number 50GSR9000, displays 4-times the resolution of 1,080 x 1,920 HD displays at 3,840 x 2,160 pixels and 8.3 megapixels. The 50GSR9000 incorporates LCD (LED backlight display technology) and comes with three HDMI ports and stereo speakers.
Polaroid is also debuting a 50-inch LED Smart TV (model # 50GSR7100 ) that's Roku Ready with a built-in wireless Roku Streaming Stick. The device is powered by an MHL port (that's much like a standard H456 DMI port), that allows easy plug-and-play use. Like the 4k model, the 50GSR7100 also utilizes LCD (LED backlight technology), comes equipped with three HDMI ports and stereo speakers. The Smart TV will sell for $599 US.
As part of Polaroid's launch plan, additional screen sizes will range from 32" to 69" and will come with an updated bezel and TV stand.
Scott W. Hardy, President and CEO of Polaroid says, "we are excited to bring consumers a state-of-the-art product at an affordable price point."
If you're visiting CES this year, you'll be able to see both TV sets in the Polaroid booth #13613
Source: Polaroid