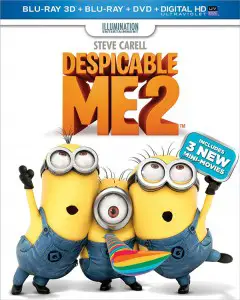 This week on Blu-ray Disc Despicable Me 2 is among the most popular titles released. The animated film from Illumination Entertainment & Universal Studios is available in either Blu-ray or Blu-ray 3D combo packs, each with DVD and Digital HD copies via UltraViolet code. Both editions also contain three new mini-movies. Also from Universal, Fast & Furious 6 has been released to two Blu-ray Disc editions, each containing both theatrical and extended versions of the film. You can choose between the normal Blu-ray edition and Steelbook Blu-ray edition, packaged with DVD and Digital HD copies via UltraViolet. Both Fast & Furious 6 editions also include plenty of extras such as deleted scenes, documentaries, and production featurettes. Also among our top picks, Doctor Who 50th Anniversary Special: The Day of the Doctor from the BBC is now available in a 2-disc edition with Blu-ray 3D, Blu-ray, and DVD copies.
Check out our picks for the week below. And, here's a link to new Blu-ray Disc releases
 available at Amazon.
New Blu-ray Disc releases, Dec. 10, 2013
Despicable Me 2 (Blu-ray + DVD + Digital HD with UltraViolet)

Despicable Me 2 (Blu-ray 3D + Blu-ray + DVD + Digital HD with UltraViolet)

Fast & Furious 6 (Steelbook) (Blu-ray + DVD + Digital HD with UltraViolet)

Fast & Furious 6 (Extended Edition) (Blu-ray + DVD + Digital HD with UltraViolet)

Doctor Who 50th Anniversary Special: The Day of the Doctor

Mary Poppins: 50th Anniversary Edition (Blu-ray + DVD + Digital Copy) Day of the Doctor (Blu-ray 3D / Blu-ray / DVD Combo)

Big: 25th Anniversary Edition

The Great Muppet Caper And Muppet Treasure Island: Of Pirates & Pigs 2-Movie Collection

Futurama Vol. 8

Grey Gardens (Criterion Collection)

Fairy Tail – Movie: Phoenix Priestess

Fairy Tail: Part 7

Beyoncé: Life Is But a Dream

The Big Gundown (1966)

Man of Tai Chi

Gatchaman Complete Collection

Adore

Mtv Unplugged (Scorpions)

The Hunt

Ultimate Life