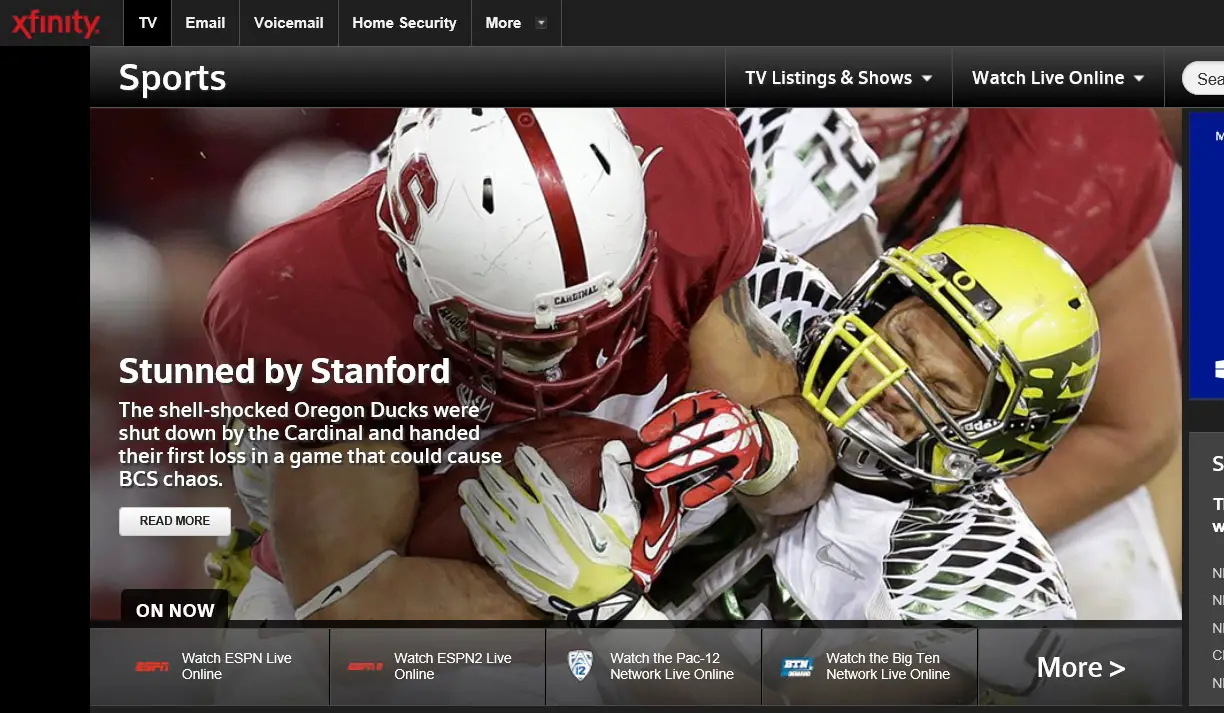 Starting Monday, Nov. 11, Comcast will offer Xfinity TV subscribers access to a large selection of sports programs at no additional charge including Thursday Night Football, Big Ten, NHL Hockey and Pac-12 College Football games. As well as on their television sets, customers will also be able to watch certain sports networks online at Xfinity.com/TV  and on Android and iOS mobile devices using Comcast's newly released Xfinity TV Go app.
Promoted as "Xfinity Sportstacular!," the promotion will feature broadcasts from Big Ten Network, ESPN Goal Line, FOX Sports 1, NBA TV, NBC Sports Network, NFL Network, , NHL Network, and Pac-12 Networks. Many of those networks are usually only available to customers who subscribe to specific Xfinity sports packages, but for one week will be free to all customers. The preview includes high-definition (HD) as well as standard-definition (SD) channels.
"Xfinity TV has been the home for Most Live Sports for years, but we've never offered sports fans anything like this," said Matt Lederer, Director, Digital and Sports Marketing Strategy at Comcast Cable.
Comcast has also launched a microsite at www.xfinity.com/livesports that provides live coverage and a programming guide for the week of programming offered at no extra charge. The site can be viewed in most cases by anyone, no matter what service packages they subscribe to.
The "Xfinity Sportstacular!" week ends on Thursday, November 17.
Sports networks included in Xfinity Sportstacular!
beIN SPORT

beIN SPORT en Español

Big Ten Network

CBS Sports Network

ESPN Goal Line

FOX College Sports

FOX Sports 1

Golf Channel

NBA TV

NBCSN

NFL Network

NHL Network

Pac-12 Networks

Tennis Channel
Available via the Xfinity TV Go app (Xfinity TV customers)
beIN SPORT

beIN SPORT en Español

BTN, FOX Sports 1

Golf Channel

NBCSN

Pac-12 Networks