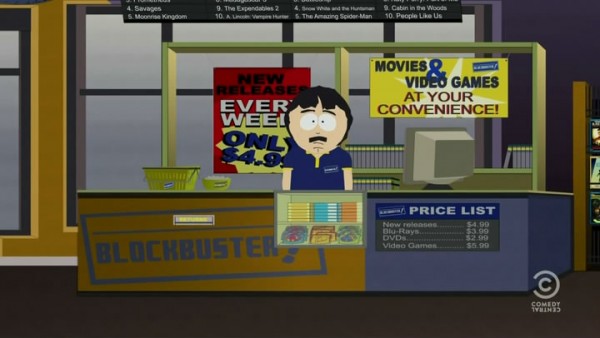 Blockbuster Video, once the most boffo of all video store chains, died this Wednesday after a long period spent in a persistent vegetative state. The once mighty brick-n-mortar retailer of top-rated movies was 28 years old.
Blockbuster was the brainchild of entrepreneurs, David and Sandy Cook, who started the video outlets once they noticed mom n' pop video stores doing quite well, but that they could do it better, with more value by not introducing a membership fee, and by keeping their stores family friendly.
From inception, there was no porn corner curtained off to keep the kiddies out (a right of passage for 80s males was to slip behind the curtain for as much time as Mom's distracted eyes took to scan the back of a few video boxes in the kid-friendly section of a store).  Blockbuster, for good or bad (mostly in taste), changed the nature of the video rental business.
Though it began life as a young business located in only a few states, with its original flagship store in Dallas, the stores grew into a vast retail chain as American's discovered that the video cassette recorder wasn't just for taping crappy TV shows… no! You could rent a pre-recorded video in pretty good VHS quality (Beta, too!) and enjoy a night out at home.  No need for a sitter, no need to find and pay for parking, no hassles at all… just head over to a Blockbuster with its comfortable looking torn ticket in friendly blue and yellow and find the latest hit, rematch an old favorite, or try something new and exotic (for Blockbuster anyway… not only was porn off the menu, but anything that wasn't too family friendly could be screened out whether R-rated, or later, NC-17). Head home pop the popcorn, get comfy on the sofa, and start watching a Hollywood hit in the VCR.
Almost immediately the few stores that were already packing customers in the door (and forming lines to get in and get a free membership) were attracting other entrepreneurs like Scott Beck, who immediately saw the money-making potential of the video superstore concept.  Later, other big investors who quickly became franchisees, helped shaped the chain's overall family appeal, while David Cook and his partners shaped the supremely efficient supply-chain, data centers (Blockbuster pioneered barcoding in their stores for quicker checkout… they also would eat the tax to keep the cost of renting titles down, and so that their clerks wouldn't have to make change and slow up the lines) and other primary resources that enabled Blockbuster Entertainment Corp. (as it was then known) to open stores daily, completely stocked and ready to do business, making their franchisees very happy.
Eventually, the chain's success in outperforming the mom n' pops and other video store competitors, attracted the interest of business maven, Harry Wayne Huizenga, who would later invest in the chain on an $18.5 million cash infusion… a deal that, once brokered, gave Huizenga control of 60% of the company as he enough stock to make him and his partners the largest shareholders.  Eventually, Huizenga and his group, due to their controlling interest, became a behemoth that Cook and his partners couldn't control as the push became to focus not only on quality, but massive expansion that the nascent video rental industry had never seen before.  The adolescent Blockbuster reached a robust adulthood under the aggressive care of Huizenga, and Blockbuster never looked back, until…
A little company out of Los Gatos, California changed history, and disrupted the video rental industry, by delivering movies by mail.  Long after the format wars which VHS won became a thing of misty legend, and DVD became the much vaunted format for movie lovers to favor, Blockbuster was discovering what middle age felt like… the video rental concept now creaky, the stores with videos gathering dust, the ginormous company slow to change, first with the switchover from tape to disc, and then in the way those discs would be distributed to customers, who suddenly no longer felt like hauling ass to the nearest Blockbuster when this other little company offered movies by mail.
Blockbuster's old ways also became something of a debilitating affliction from which it was slow to seek treatment… nobody wanted to be charged late fees (which was a key factor in Blockbuster's overall financial success) just like they hated to be screwed out of a buck or two for forgetting to rewind a videocassette.  In the 90s, Blockbuster, having gobbled up much of their competition on their road to video chain dominance, became a sort of laughing stock for cineastes, who never felt the family stores carried the type of titles that piqued their interests… art films could be hard to find, and the store's reputation for self-censorship by not carrying certain titles, made it seem out of touch with an America heading into the 21st century.
Blockbuster was suddenly facing old age while other ideas for video distribution were running circles around the stodgy company.  The chain tried everything– video game rentals, ancillary items to be sold along with movies –but it was too late.  Slowly the chain, no longer under the care of Wayne Huizenga, was handed off in succession to a few other large conglomerates like Viacom and Trans World Entertainment.  The stores underwent changes the customers didn't like, and by the time that little company in Los Gatos was on the verge of making it big, Blockbuster, already slipping into a vegetative state, was unable to gather its wits to make make a deal with Netflix founder Reed Hastings (and completely missed the boat on acquiring it outright and merging it).  Instead, they dithered, they dallied and they hurled insults at Hastings and his little mail-delivery company with those darned red envelopes.  Then, in a slightly deranged state, Blockbuster attempted  to launch a similar rent-by-mail business while Netflix turned its gaze toward broadband networks for wider distribution of video content.
By the time Blockbuster fully entered terminal dreamland, vulture-capitalist, Carl Icahn, was picking at the bones.  The, company, by now drooling and raving at alternative technologies, tried to start a streaming service once Netflix and Hulu proved the concept's viability, but by then it was too late… the company was entering a state of bankruptcy.  Though a last minute attempt to stave off death was initiated by Dish Networks, the company was finally taken off life-support Wednesday, with Dish saying that all remaining stores would be closed along with the rent-by-mail service.
The once mighty chain leaves behind a number of franchisees who might still continue to do business, as well as the streaming and on-demand services hosted under the name Blockbuster through Dish Networks.  Dish has asked that flowers not be sent, but that donations be made to its company through the Wall Street Casino.  No further details on memorial services have been provided.
HD Report's editorial board and staff will always have fond memories Blockbuster video, and we wish that it may rest in peace.