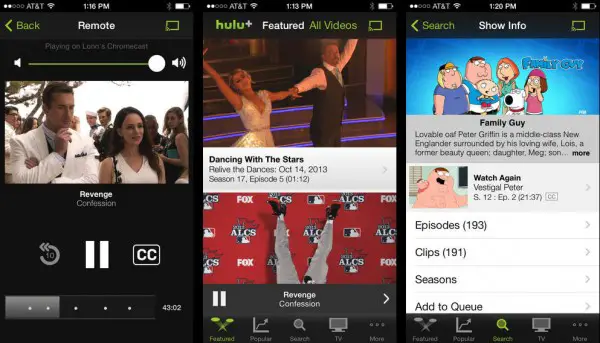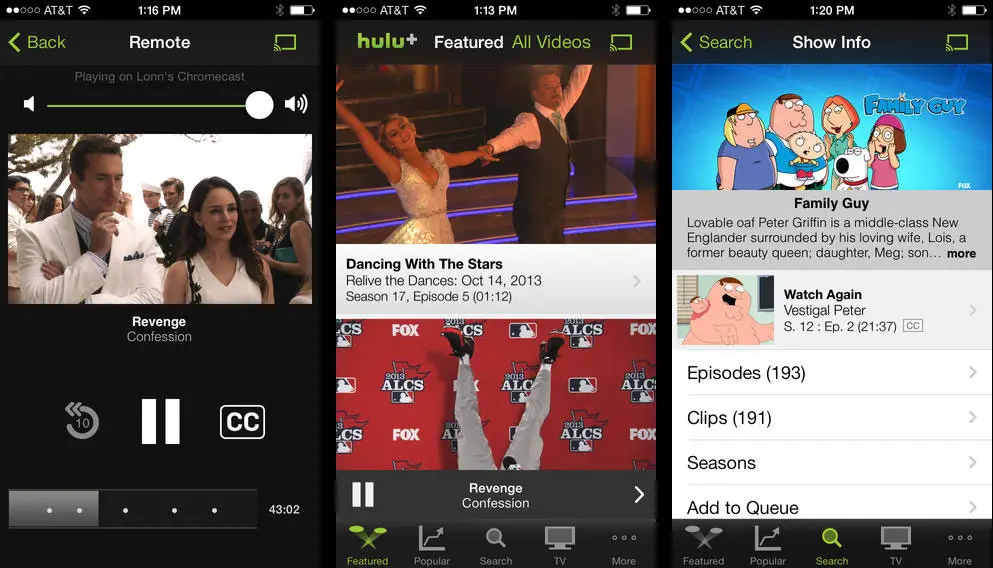 Just updated today on Apple iTunes, the new Hulu Plus app Version 3.3.1 now lets you "cast" TV shows and movies on Chromecast via your iPhone. When used with Chromecast, the app gives your phone remote control functions but with the added ability to browse content on the phone (those old universal remotes never had that feature, did they?). The app's Chromecast support has already been available for Android phones and tablets, as well as iPads for a few weeks now.
Chromecast support requires a "premium "Hulu Plus subscription ( $7.99 per month) for limited commercial interruptions. One review on the Hulu Plus app download page says the app is "still little buggy," while another says "it's all I've ever wanted."
With a Wi-Fi, 3G, or 4G connection, the Hulu Plus app lets you stream TV shows such as Battlestar Gallactica, Family Guy, Modern Family, and Lost among available titles. The app lets you watch entire seasons of television show series, and pause and resume watching on other devices.
The Apple iOS app requires iOS 6 or higher to integrate with Chromecast (although the app itself requires at least iOS 5). Supporting devices include support iPhone 3GS and newer, iPad, and 3rd generation iPod Touch and newer.