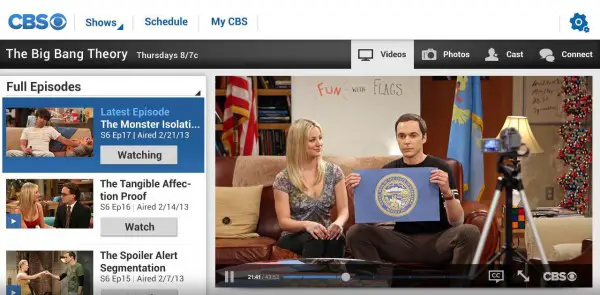 CBS has updated their app to now support streams of TV shows on Android and Windows 8 devices. Previously launched for iOS, the CBS app allows viewing of already-aired shows in as quickly as 24 hours after premiering, although primetime shows may take up to 8 days before available to stream through the app. While the Android app was long awaited and expected, it's nice to see Windows 8 also getting some attention.
The Android and Windows 8 apps are not yet linked to any second-screen features as of this release, but CBS promises CBS Connect and Connect Live (already available in the iOS version), will be added to the Android app sometime this fall.
The CBS app features full episodes streaming in HD, a personalized show list, photo galleries and cast pages, as well as a scrollable primetime TV schedule.
To watch shows on the CBS app, your mobile device must be connected via 3G, 4G, LTE, or Wi-Fi network.
The Android app, Version 1.0.53, was updated on Oct. 3 and is available to download for free from the Google Play Store. The app requires Android Version 4.0 or higher.
The recently updated Windows 8 app, supporting x86, x64, and ARM processors, is available to download free-of-charge from the Windows App Store.
Source: Google Play Store, Windows Store