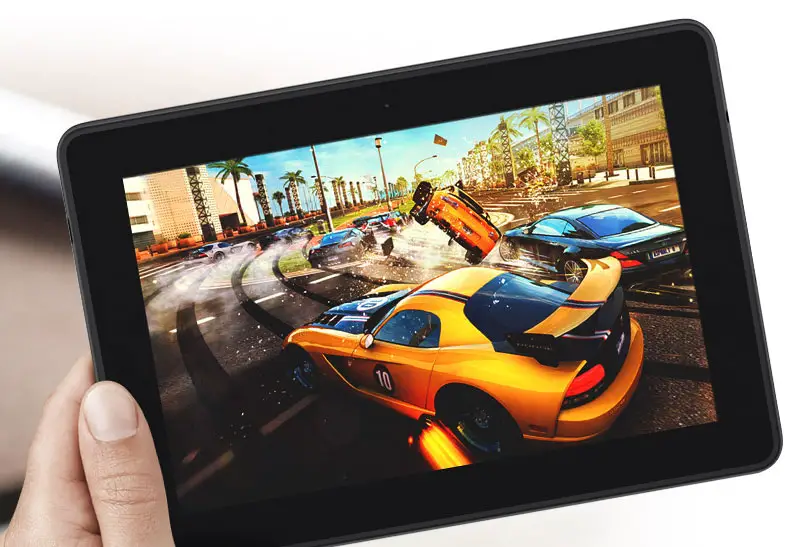 Amazon has introduced new Kindle Fire tablet models that improve performance across the board, including the addition of the latest graphics engine Adreno 330, doubling the amount of memory of previous models, and tripling speeds with a 2.2 GHz quad-core Snapdragon 800 processor.
Their new top-of-the-line 8.9″ Kindle Fire HDX tablet boasts an improved display with 323 pixels-per-inch (up to 339 ppi) at 1920 x 1200 resolution, 100% sRGB accuracy, and improved brightness and contrast. Audio uses Dolby Digital Plus technology. The body is made up of a new magnesium unibody and molded glass-nylon alloy, weighing in at just 13.2 ounces. The Fire HDX is available in 16GB, 32GB, and 64GB configurations.
As far as battery life, the new models achieve up to 11 hours media time, and up to 17 hours of reading time. And, the tablets run on the latest version of Fire OS — Fire OS 3.0, called "Mojito."
Other additions include new email, calendar and productivity apps, X-Ray for Music, and the Mayday button that provides help in navigating your Kindle Fire.
Another addition to the Kindle Fire HD tablets is the ability to download movies and TV shows via Prime Instant Video. This will allow you to store rented movies to watch wherever you want even without internet service, much like Apple iTunes downloadable titles.
Amazon says you'll also be able to use the new Kindle Fire tablets as a Second Screen, allowing you to "fling" TV shows and movies to your TV screen, and access other content such as programming information, web content and email. The Second and Screen feature is scheduled to be available in October for PS3, Samsung TVs, and PS4 (later this year).
The Kindle Fire HDX starts at $379 (8.9″) and $229 (7″). The new Kindle Fire HD model starts at $139 (which previous carried an MSRP of $199).
In related news, Amazon's founder Jeff Bezos just purchased struggling publication The Washington Post at a purchase price of $250 million. However, The Post's digital publication Slate was not part of the deal.