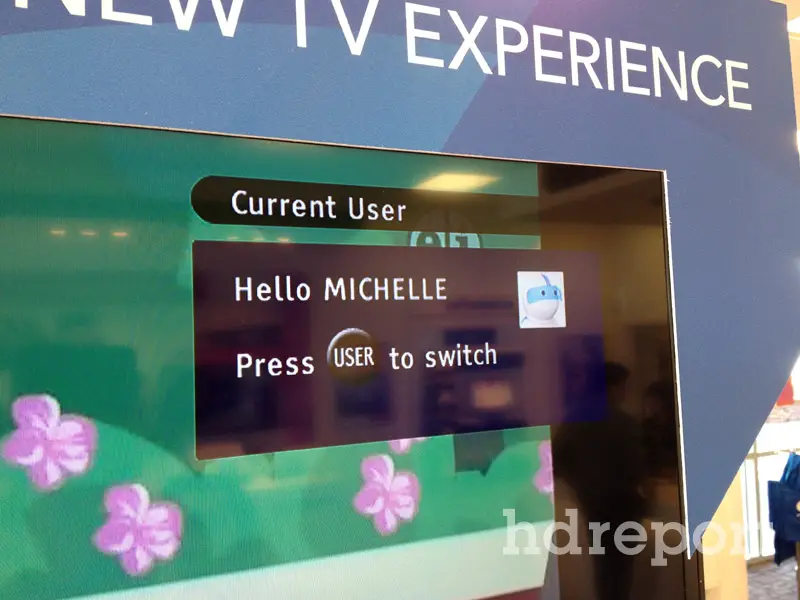 Cox recently completed rollout of their Contour TV upgrade, a system that integrates intelligent user recommendation software with hardware components for the home. You may have seen advertisements popping up in Cox markets that focus on personalization and iPad integration, but what about what's under the hood? We got a chance to check out the Contour TV product to get a look at the hardware, software, and essential elements of the system.
Hardware
The main piece of hardware in the Contour TV system is the 6 Record HD DVR that allows you to record up to six separate programs at the same time. Compare this to Dish's with Hopper Whole-Home HD DVR that also lets you record six different programs, only with a catch. Dish's 3-tuner DVR requires four of the six be local network programs that Dish serves up On Demand. The Contour 6 Record DVR doesn't disclose that same fallback, allowing the recording of any TV show or movie on a channel you subscribe to.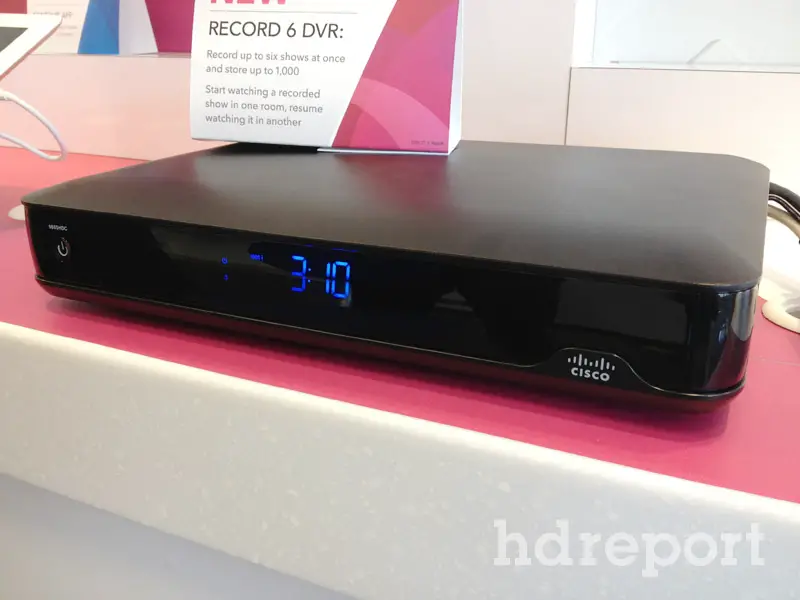 The HD DVR unit itself is a CISCO model EXP4642HDC with 2TB hard drive, enough room to store up to 1,000 hours of SD or 300 hours of HD content. The design of the 6 Record HD DVR is not much to speak of, but what it might lack in elegance it makes up for in practicality. What's more, the DVR can be daisy-chained to two more 6 Record HD DVRs for a total of 6 terra-bytes. That gives power users up to 3000 hours of standard-definition, or about 900 hours of high-definition programming. The Contour 6 Record HD DVR supports HD video up to 1080p, as well as Dolby Digital Plus audio.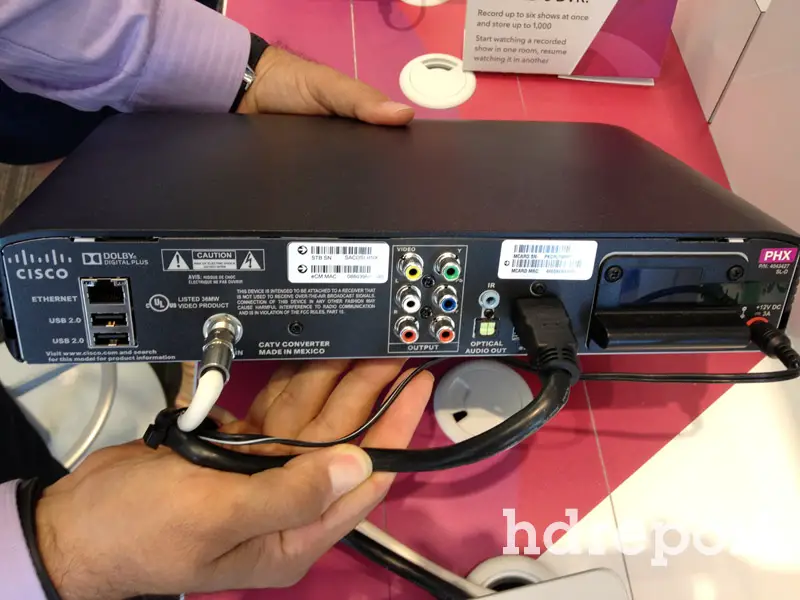 Service on the 6 Record HD DVR includes HDMI out, dual USB 2.0 ports, Ethernet, RCA Audio/Video In/Out, coaxial, IR Remote jack, Optical, with a standard 12V DC 3Amp power requirement.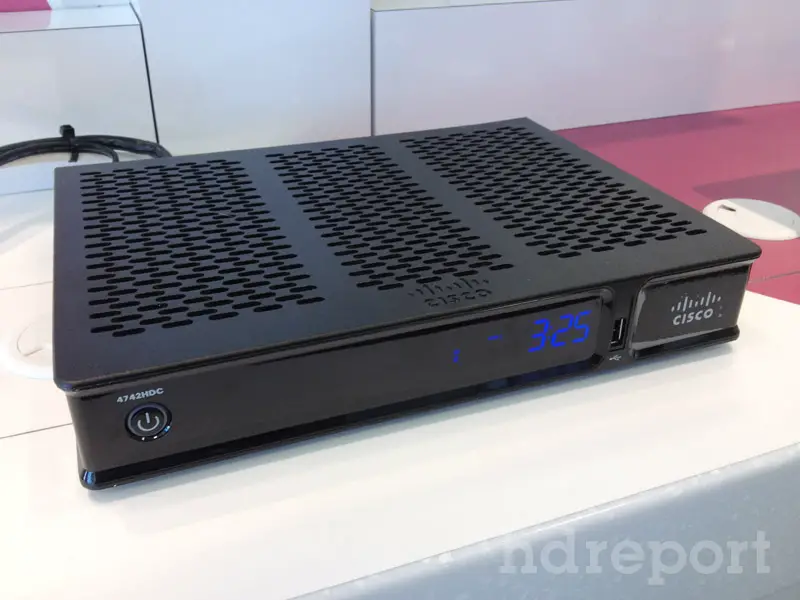 The Contour's client boxes, CISCO 4742HDC models, are much cooler looking than the main 6 Record HD DVR. With a honeycomb-style hard metal case the set-top boxes are smaller than the main DVR but look indestructible. Service options are almost the same as the main DVR but the 4742HDC also includes a USB 2.0 port on face, and coaxial In/Out connections on back.
You can connect up to seven client boxes to TVs throughout your home. Each box, whether the main 6 Record HD DVR, or the CISCO 4742HDC client box, cost an extra $8.50 per month to rent (there are no purchase options). You'll also need to pay $15 for the Whole Home DVR service.
Software
When connecting the Contour TV to an iPad as well as your TV you'll be able to see up to eight user profiles, accessible on the tablet, main TV and other TVs in your home. This is the main feature Cox seems to be targeting in their marketing efforts. When you set up a user profile, Contour will make suggestions based on your viewing habits. The software algorithm determines a user's likes and dislikes by using many different variables such as previously watched, genres, keywords, actors, and other factors.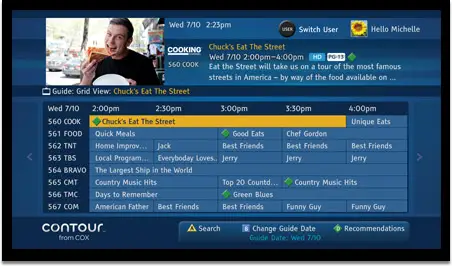 If you're a Cox customer you may have always wondered what the little green diamond button does on the remote control. Contour TV has designated that button to access user profiles and recommendations. The green diamond was already used in the guide as an indication of shows you may enjoy, based on shows you watch and user feedback via Like/Dislike votes.
The Contour TV system doesn't have the built-in ad-skipping option that has been getting Dish into trouble with network broadcasters, but of course there's always fast-forward on the remote.
Second-Screen Integration
Contour TV expands the TV experience via the iOS Cox Contour for iPad app. As of now, the app is only available for the Apple iPad, but Cox says they are working on a solution for Android tablets by the end of 2013 and for smartphone platforms sometime in Q1 2014. The Contour iPad app, a 18.7Mb file, was last updated on September 17 to Version 1.2.0.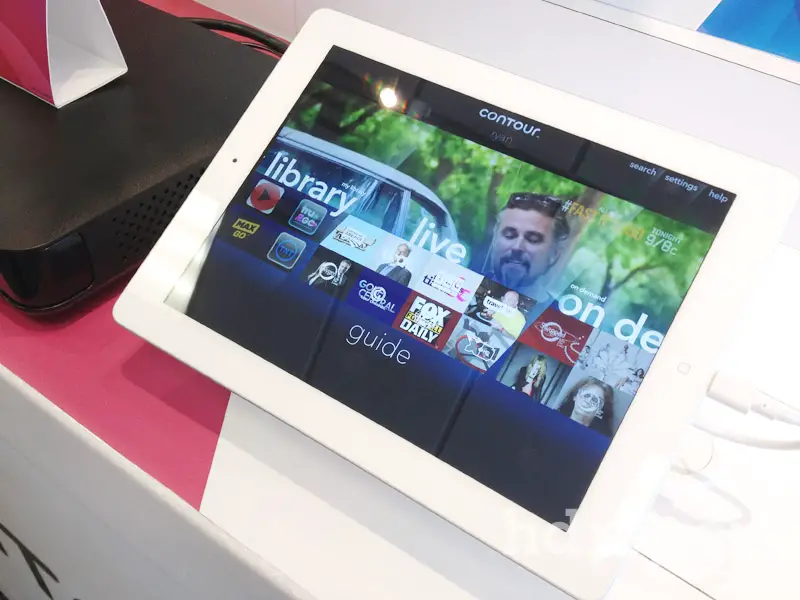 The main screen of the iPad application shows three panels: My Library, Live, On Demand, which give you quick access to various content you may want to watch. A swipe across the interface opens up either of these sections, allowing you choose a title and get more details or send to your TV screen. In a way, the iPad becomes a more sophisticated universal remote (although sound and other TV controls are not integrated into the app).
To watch most programs on your iPad you'll need to be using Wi-Fi in your home, although the app provides access to some TV network apps that can be watched outside the home as well. There are also sharing options via Facebook, Closed Captioning, and Remote Scheduling.
Pricing
The Contour TV upgrade costs an extra $10 per month on top of whatever service package you choose. As mentioned above, the Whole Home DVR service costs an additional $15 per month, and the 6 Record HD DVR is $8.50 per month. Any additional set-top boxes TVs throughout your home cost $8.50 per month each.