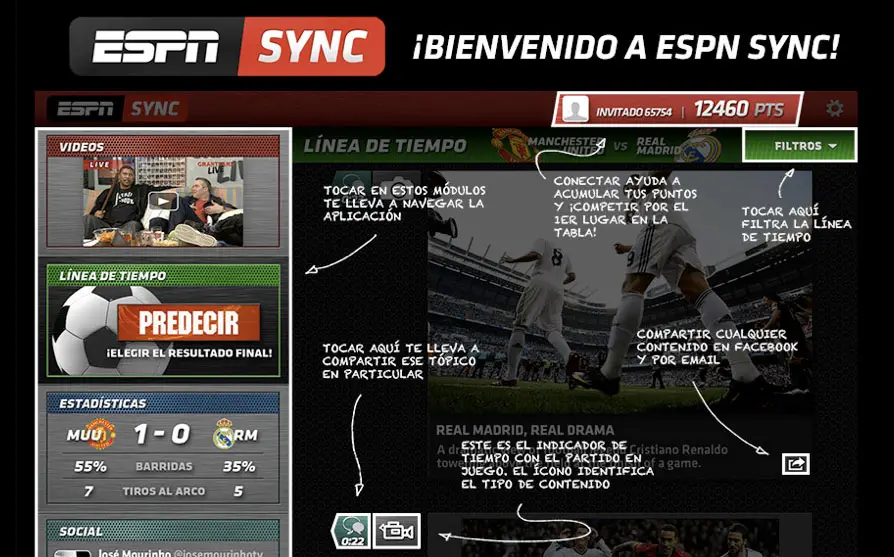 Over the weekend, ESPN Deportes launched the web-based second-screen companion ESPN Sync that provides streams of content such as scores, stats and polling while live events happen. The site also integrates social interaction with streams from Twitter and Facebook, and ESPN has already scheduled 60 events to be featured on ESPN Sync including World Cup Qualifiers, UEFA Champions League matches, and next year's NBA Finals.
The companion app launched in time for the Sept. 14 bout between Floyd Mayweather vs. Canelo Alvarez, and social interaction was encouraged under the hashtag #MayweatherCanelo.
Published in Spanish (although your browser may be able to translate some content to English), ESPN Sync will also include companion coverage of the MLB World Series, Liga MX, Copa MX, NFL Playoffs, MLB, Super Copa and the ESPY Awards.
EPSN refers to ESPN Sync as an app, but considering there isn't actually a file that needs installing it seems to make more sense to call ESPN Sync a responsive website that adapts to any screen size — PC browser, tablet or smartphone.
Perhaps in the future, ESPN may built a downloadable app with similar functions to ESPN Sync (of course, ESPN already offers a suite of apps including ESPN ScoreCenter, ESPN Radio, and ESPN X Games). But for now, you'll be able to find ESPN Sync at the mobile URL http://m.espnsync.com.
ESPN Deportes, the television channel, recently launched on DirecTV in high-definition on Channel 432.