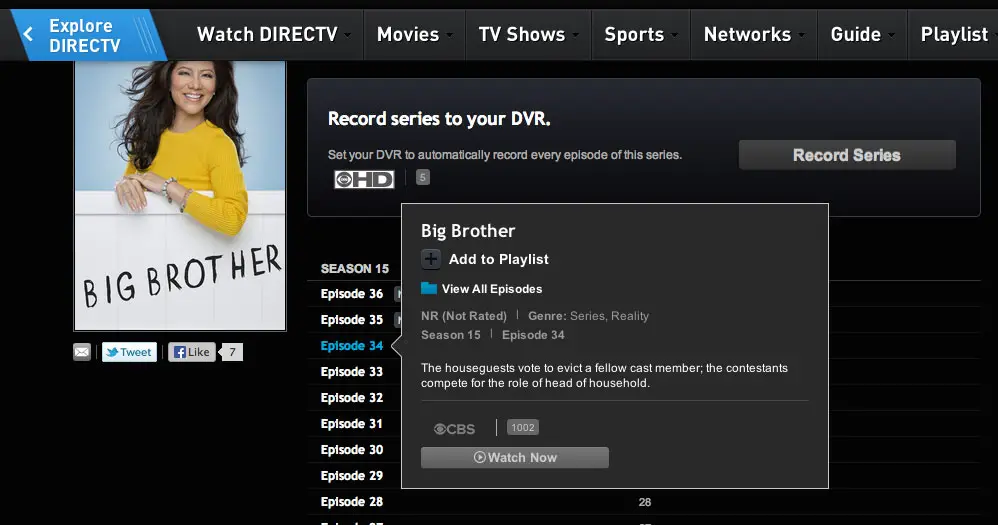 DirecTV has added the option to stream CBS programming online, including shows like Survivor: Caramoan, 48 Hours, Big Brother and How I Met Your Mother. There are also archive TV shows such as The Brady Bunch, Dynasty, and I Love Lucy available to stream. Keep in mind this new feature isn't live television, as distribution agreements make that a more complicated issue. And, the availability of CBS shows is still a bit spotty, meaning, we found a few episodes that were listed but not actually available to watch online.
Streaming quality from DirecTV varies depending on the program. For example, some episodes of 48 Hours are available in SD and HD, while the show 1 Girl 5 Gays is only available in SD quality. Many movie titles such as 10 Years, 2 Fast 2 Furious, and Van Helsing are also available in either SD or HD. And, you'll also find a selection of movie titles in even higher 1080p quality. As of this article, DirecTV has 6,859 titles available to stream in SD, 5,791 in HD, and 1,111 in 1080p.
To watch CBS online just find the show you want to watch on DirecTV.com and click on the episode title. The shows include commercials, but you can't skip over them after a few seconds like you can with YouTube. Available streaming formats can be seen right next to the titles as pictured above.
Other recent additions to the DirecTV's Watch Online option include E!, Sprout, Style, and Golf Channel.
DirecTV lets you stream some live TV broadcasts, even outside your home, including programming from networks such as AMC, History, TBS, and USA. But the availability varies by network and title.