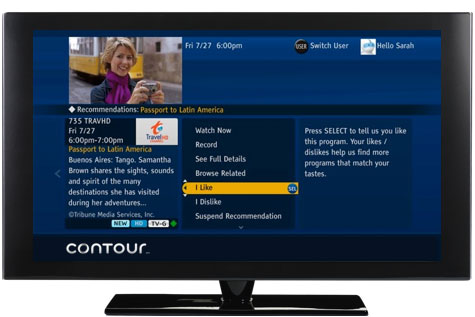 Cox Communications has completed their rollout of their Contour TV service. The company first launched Contour at the beginning of August, and has since reached all six of their U.S. regions including California, Southwest, Southeast, Central, Northeast, and Virginia.
Contour TV is the first integrated TV system to utilize software that makes viewing recommendations for up to eight user profiles across a multi-unit system that includes DVR, TV, and tablet. (Although presently, the Apple iPad is the only supported tablet.) Using the software on the iPad, users can easily choose between library, live and On Demand content. The free Contour app also gives the user access to over 90 national live TV cable channels.
In terms of hardware, the Contour TV system can optionally integrate Cox's 6 Record HD DVR with 2 terrabyte hard drive, allowing users to store up to 300 hours of HD programming (or 1,000 hours SD).
The Contour TV upgrade costs $10 per month. The 6 Record HD DVR service is $14.99 per month. Each set-top box, including the main DVR and additional TV boxes, cost $8.50 per month.
"Contour brings to life all the features our customers tell us they want from individual viewing recommendations that are based on their past preferences to a robust library of VOD offerings and enhanced DVR capabilities," said Mark Greatrex, senior vice president, chief marketing and sales officer.
This week Cox also launched their Fall FreeView promotion offering over 500 episodes of popular TV shows On Demand from premium networks such as HBO, Showtime, and Starz. The FreeView also includes shows from broadcast networks like NBC and ABC, as well as cable networks such as AMC, Discovery, and National Geographic Channel among others.