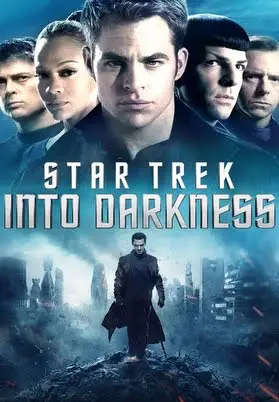 Paramount Home Entertainment has released Star Trek Into Darkness to digital download three weeks earlier than the Blu-ray Disc and DVD editions hit stores on September 10. The film can be downloaded from iTunes, Amazon Instant Video, Vudu, Cinema Now, and YouTube among popular digital movie services. 'Into Darkness' follows the current trend in home media releases that puts digital ahead of packaged media. Oblivion (Universal Studios), A Good Day to Die Hard (20th Century Fox), and Prometheus (20th Century Fox) are among other titles released in advance of Blu-ray and DVD.
Pricing for the download of Star Trek Into Darkness remains fairly consistent among movie download services. Amazon, Apple, and YouTube are selling the SD version for $14.99 and the HD version for $19.99. Cinema Now has priced the UltraViolet copy at $18. And, Vudu is selling downloads of the film in HDX or HD format for $22.99, and the SD version for $17.99.
iTunes is offering extras with the purchase of Star Trek Into Darkness including a behind-the-scenes bonus, and an exclusive enhanced commentary with director J.J. Abrams and crew members.
Star Trek Into Darkness earned $227M nationwide and $453M in the worldwide box office. The film is J.J. Abrams' second title in the Star Trek franchise, which started with Star Trek (2009) earning $257M in the US. The revitalized Star Trek crew stars Chris Pine as Kirk, Zachary Quinto as Spock, Karl Urban as Bones, and Zoe Saldana as Uhura.