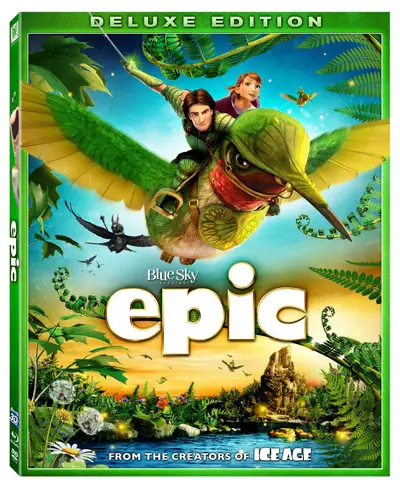 Here's what's new on Blu-ray Disc this week. 20th Century Fox's animated adventure Epic with voiceovers from Colin Farrell, Josh Hutcherson, and Amanda Seyfried hits shelves in several editions including a three-Disc Blu-ray 3D/Blu-ray/DVD and two-Disc Blu-ray/DVD both of which come with a Digital Copy, bonus features, and behind-the-scenes footage.
HBO's Boardwalk Empire: The Complete Third Season has been released to a seven-disc boxed set that comes with audio commentaries, episodic previews and recaps, new characters, newsreels, and additional bonus material. The edition also comes with an UltraViolet access code to download Digital Copies of the episodes — something you don't always find with television series. FYI: UV codes do expire and the code for this particular title will expire August 31, 2015.
Paramount has released Star Trek: Enterprise – Complete Second Season to Blu-ray Disc. The show, which premiered in 2001, lasted four seasons through 2005. The six-disc Blu-ray set carries an MSRP of $129 and contains all 26 episodes of the show starring Scott Bakula, Jolene Blalock and John Billingsley. Additional bonus material includes deleted scenes, photo gallery, outtakes, and several featurettes including "Levar Burton: Star Trek director."
Check out our picks for the week below. And, here's a link to all new Blu-ray Disc releases available at Amazon.
New Blu-ray Disc releases, Aug. 20, 2013
Epic (Blu-ray 3D, Blu-ray)
HBO's Boardwalk Empire: The Complete Third Season
Star Trek: Enterprise – Complete Second Season
Killing Season
High School DxD: The Series (Limited Edition)
Scary Movie 5 (Unrated)
Peter Pan Return to Neverland: Special Edition
Amour
Invitation to Illumination: Live at Montreux 2011 (Santana)
Charulata (Criterion Collection)
The Big City (Criterion Collection)
Life of Muhammad (PBS)
National Geographic Movie Collection (Wildest Weather/Flying Monsters/Sea Monsters/Lewis&Clark/Sea Monsters/Forces of Nature)