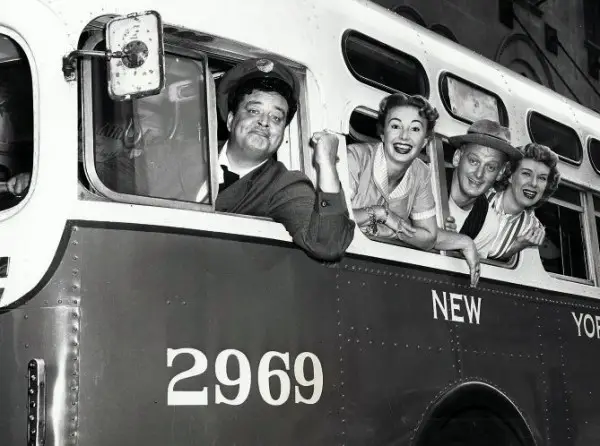 It's kind of amazing to think that there were only 39 episodes of The Honeymooners, and yet it's arguably on the Mount Rushmore of TV sitcoms. That legendary status is likely why Jackie Gleason's tour de force turn as Ralph Kramden is getting the high definition treatment this fall. All 39 episodes of the classic comedy series can be yours when Paramount and CBS unveil The Honeymooners: 39 Classic Episodes on Blu-ray October 15. There's no word yet on the specs or price of the set, but we do know it will include The Honeymooners Anniversary Special.
Of course The Honeymooners features Gleason as the loudmouthed Kramden, a New York City bus driver who's constantly thinking of ways to get rich while beefing with his buddy Ed Norton (Art Carney) and feisty wife Alice (Audrey Meadows).
And who could forget all the classic catchphrases?
Bang, zoom!

You… are a mental case.

You are a blabbermouth! A Blaaaabbermouth!

Baby, you're the greatest.

To the moon, Alice!

How sweet it is!

H

umina-humina-humina-humina.
And in other Honeymooners news,
the 2005 movie
with Cedric The Entertainer is now $1.99 at Amazon–and still overpriced.