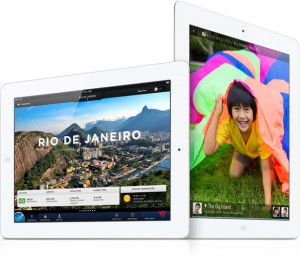 Best Buy launched its iPad trade-in-program today good through August 3, 2013 that lets you get at least $200 towards a 3rd generation model with Retina display. Your iPad must be an iPad 2 or newer in working condition without cracked glass or water damage. The promotion is offered in-store only, and is not valid for first generation iPad and iPad mini models.
With the trade-in promotion and $200 credit (applied to a Best Buy gift card), new iPads start at $299.99 for the 16GB white or black model with 16GB storage.
3rd Generation Apple iPads with Retina display at Best Buy range in price from $499 (16GB Wi-Fi Only) to $929 (128GB with Wi-Fi and Cellular). The retailer currently has 31 models to choose from on their website, with cellular models to support AT&T, Sprint, and Verizon phone plans.
The promotion follows a two-day iPad trade-in-promotion offered earlier this month.
Advertisement: Visit Best Buy for the latest deals and promotions!