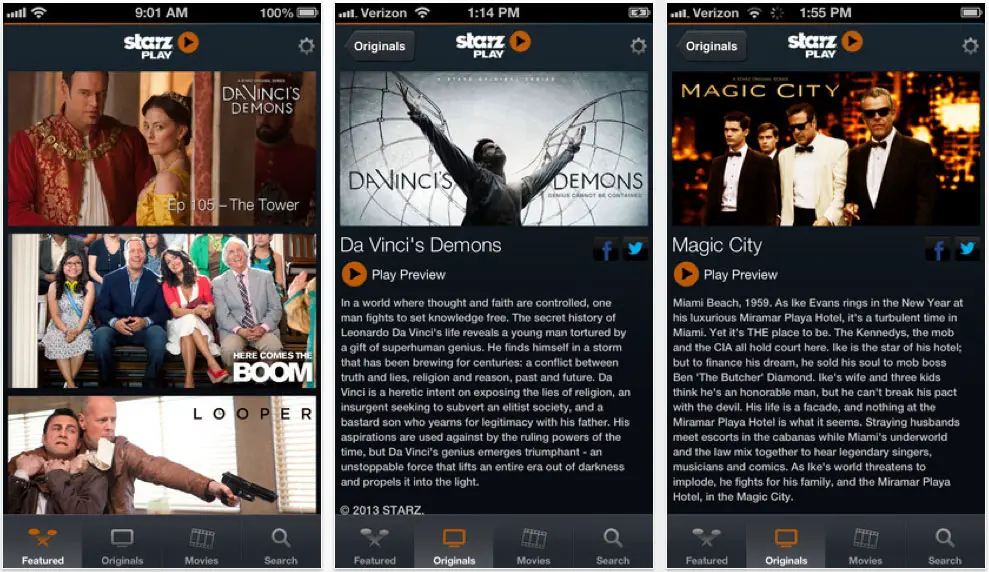 Time Warner Cable customers can now watch Starz and Encore programming anytime and virtually anywhere with the launch of the STARZ Play and ENCORE Play apps for iOS and Android. TWC made the official announcement today for support of the apps which stream content to Apple iPhones and iPads, as well as Android devices including Kindle Fire, Kindle Fire HD, NOOK HD, NOOK HD+, and the Google Nexus 4, Nexus 7, and Nexus 10. The networks are also available to watch on PCs and Macs through starzplay.com and encoreplay.com. Time Warner Cable subscribers (who carry Starz and Encore in their service plans) can login with their customer username and password to take advantage of the service.
The STARZ Play and ENCORE Play apps for iOS (Version 2.1.0) were last updated on June 13, 2013, while the Android apps (Version 1.0.0) were uploaded to the Google Play Store on June 21, 2013.
STARZ Play offers over 400 monthly selections including first-run films such as Brave, Frankenweenie, and The Amazing Spider-Man. The service also offers 100 episodes of STARZ Original series such as "Magic City," "Da Vinci's Demons," and "Spartacus."
ENCORE Play offers about 900 monthly selections with movies such as Moneyball, Finding Nemo, and The Muppets, as well as series programming like "North And South".
Get more Time Warner Cable news on our dedicated page.