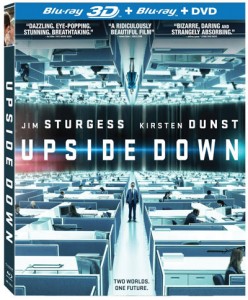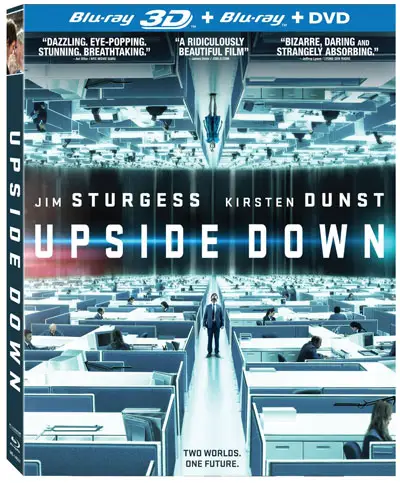 What's new on Blu-ray Disc this week? Upside Down starring Kirsten Dunst and Jim Sturgess is about a love affair obstructed by, of all things, gravity. The film is available in 3D & 2D Blu-ray, in either a 2-Disc Combo with DVD or 1-Disc edition (with both 3D and 2D formats on one disc).
The Call starring Halle Berry is available this week in a Blu-ray Disc Combo from Sony Pictures Home Entertainment that includes Blu-ray, DVD and UltraViolet digital copy.
The Incredible Burt Wonderstone starring Steve Carell, Jim Carrey, Steve Buscemi and Olivia Wilde also gets a Blu-ray release. The Combo Pack from New Line Home Video includes Blu-ray, DVD and UltraViolet copy.
And, Universal releases a lineup of films in Blu-ray "Steelbook" format that includes Blu-ray, DVD, Digital and UltraViolet copies. Just a few notable titles from the bunch include Edgar Wright's modern horror classic Shaun of the Dead (2004), his follow-up cop-comedy Hot Fuzz (2007), Brian De Palma's classic gangster film Scarface (1983), and Joel Coen's masterpiece The Big Lebowski (1998) starring Jeff Bridges as "The Dude."
Take at look at our selections this week, or follow the link below for all new Blu-ray releases.
Advertisement: See all
new Blu-ray Disc releases
at Amazon.
Our Blu-ray Disc picks for June 25, 2013:
Upside Down
The Beatles – Help!
The Call
Into the White
No
The Incredible Burt Wonderstone
WCW War Games: WCW's Most Notorious Matches
Live in NYC (Starring Jane's Addiction)
WILD AFRICA 3D – An Extraordinary Journey (Region Free)
Shoah (Criterion Collection)
Masterpiece Mystery: Inspector Lewis Season Six
Phantom
Shaun of the Dead (Steelbook)
Hot Fuzz (Steelbook)
Scarface (1983) (Steelbook)
The Big Lebowski (Steelbook)
Scott Pilgrim vs. the World (Steelbook)
Serenity (Steelbook)
Van Helsing (Steelbook)