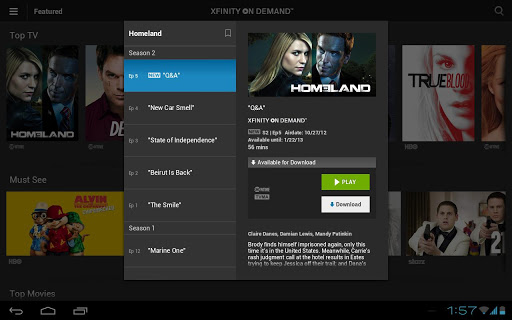 Comcast has launched an update to the XFINITY TV Player app that now lets you download movies and TV shows from select networks including Showtime, Starz, Encore and Movieplex. The app already supports streaming from both premium and standard television networks, but the added feature lets you take your downloads anywhere. Most of us will require an internet connection (via ethernet or WiFi), but Verizon Wireless customers have the luxury of streaming or downloading via 3G/4G cellular connections.
To use the app, you'll need to be a Comcast XFINITY TV customer with a subscription to the associated channel. Rule is, up to three devices are allowed per home at any given time.
The XFINITY TV Player is available for devices running Apple iOS (v5 or later), Android (OS 2.3 Gingerbread or later), as well as Amazon's Kindle Fire HD. You can download the app from the Apple App Store, Google Play, and Amazon. Currently, Barnes & Noble Nook and Windows devices are not supported by the app.
Source: Comcast