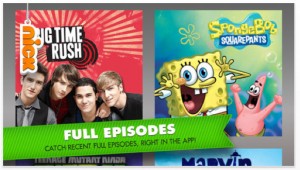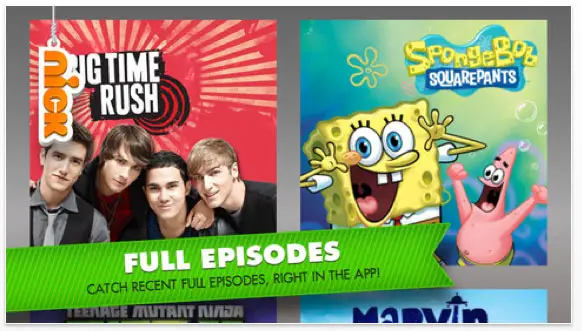 Nickelodeon has released the Nick app Version 1.1.1 that now supports Apple iPhone and iPod touch devices. The app provides original videos, animated shorts, games, and  among other content. You can also watch full recent episodes of Nick shows by logging in with your TV provider username & password. (See list of supporting providers below.) Additional features include continuous playback, better performance, and faster load times. The 45.4 MB Nick app, downloadable from Apple iTunes for free, also supports Apple iPad.
Your iOS device will need to be running iOS 5.0 or higher in order to utilize the app. Nick suggests using iOS 6 or later for iPad 2, iPhone 4, and iPod touch (5th generation).
TV service providers that support the Nickelodeon app include AT&T U-verse, Bright House, Cablevision, DIRECTV, Hawaiian Telecom, RCN, Suddenlink, Time Warner Cable, and Verizon FiOS.