VUDU just launched their In-Home Disc-to-Digital conversion service, letting users convert their DVD collection to SD or HD digital files that can be stored in the cloud. The service follows Walmart's in-store service launched last year that lets customers bring discs into a participating location and convert them to digital using the VUDU platform. Let's take a look at VUDU's service (currently in Beta mode) that lets you do it all from your PC.
First Steps
VUDU's In-Home Disc-to-Digital webpage first points you to download the VUDUToGo application, a small 3.0MB file that requires a Windows PC or Mac with a DVD drive. As of now you cannot use a Blu-ray drive to convert Blu-ray discs. You'll need to do this in-store.
The interface to the VUDUToGo application is simple. There are three tabs: My Downloads, My Purchases, and Disc to Digital. The functions of each tab are self-explanatory, but it's interesting to note that any previous titles you authenticated or purchased with VUDU will show up under My Purchases.
Once you want to convert a disc you simply click "Add Disc" and insert your DVD. Just a head's up, if your DVD application is set to autoplay your movie will run independently from the VUDUToGo app. So, whenever you pop in a new disc you'll need to Pause it or let it run in the background.
After the application searches the database you asked to convert to either SD ($2) or HD ($5), which is actually VUDU's proprietary 1080p HDX format. A kudo to the folks at VUDU – the application doesn't force you to provide a credit card before giving you the $2 credit.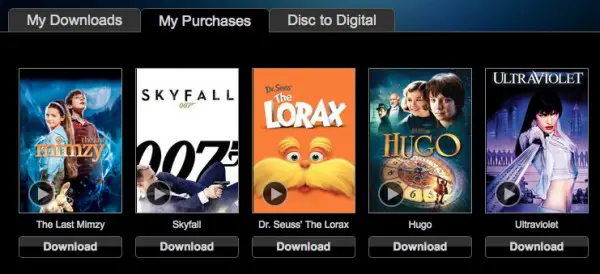 Adding DVDs
We tested The Last Mimzy in SD quality (cause we're cheap like that) and the purchase, download and playback was a seamless process. Once open, the VUDUToGo application (and player) doesn't give you any format information except for "SD" in the left corner of the video window. It would be nice if the interface provided info such as codec, video resolution, aspect ratio and audio format. The video control bar gives you the standard pause/play, volume, time coding, volume, scrollbar and option to expand or reduce the window. The SD quality of The Last Mimzy actually looked really good on a 13" Apple retina display.
We also tested a DVD copy of The Abyss with both theatrical and Special Edition versions on one disc — just to see which would be converted. That particular title was only available in SD, and unfortunately automatically picked the theatrical version. [Correction: The Special Edition of The Abyss was the purchased title. – Editor]
Another example of this was trying to convert Dark Fury from The Riddick Trilogy set. The animated film follows Pitch Black on the same disc, and so the conclusion is only the first title will be accessed by the VUDU application.
The next test was on a two-disc set to see if the cost of conversion would be the same. Lying around in an old box of DVDs we found the film Once Upon a Time in America starring Robert De Niro. It turns out the film costs the same as single-disc films.
Not all titles are available to convert to digital at this time. When trying to purchase the 1978 film Force 10 from Navarone a message indicated it was "not eligible." Disney's John Carter (2012) was also not eligible, and neither was the IMAX Space Station film narrated by Tom Cruise.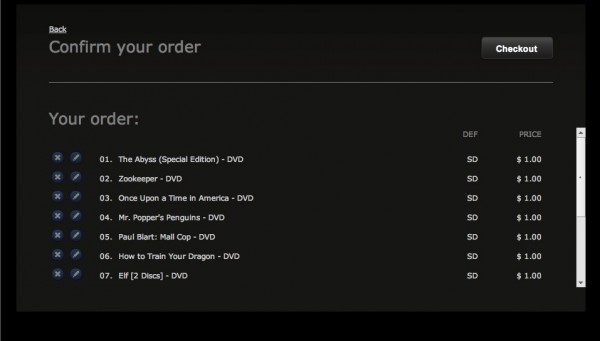 Checking Out
When checking out beyond your $2 freebie you'll be asked for your credit card information. Keep in mind that your payment information needs to be updated through the website, not the application. VUDU might be a bit more clear about this when you go to complete the transaction. You might find yourself looking for your cart within the VUDU website – which doesn't contain a cart with your chosen DVDs.
And unfortunately, when trying to checkout (the most important step for customers to complete) the following message kept appearing:
"This transaction was not completed. The amount due for this purchase has changed due to recent account activity. Try again to see the new amount."
If you get the same error, try going to Edit your cart in the VUDUToGo application and clicking Continue again. That extra step confirmed the purchase.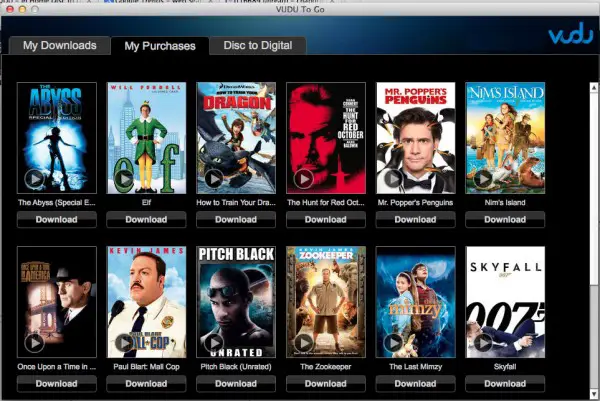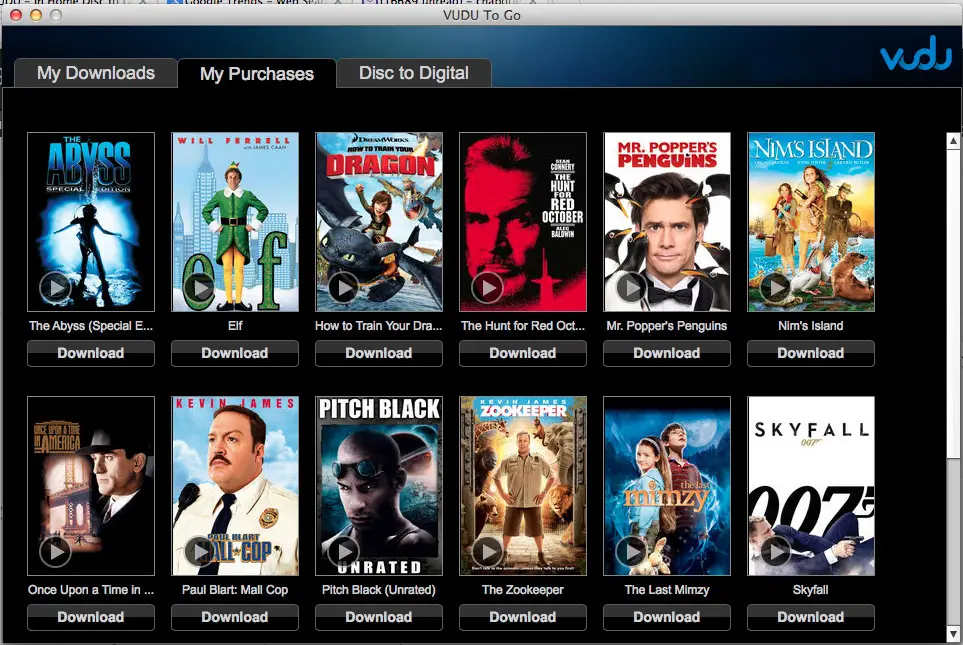 Downloading Titles
Once paid for, the titles can be downloaded from the My Purchases window. Downloads start quickly, and you'll be able to see the progress in the My Downloads tab.
What's great about the application is you don't need to run your disc (as some might predict) to convert the movie. VUDU is simply accessing the title of the disc. Once found, you can eject the DVD at any time.
As we added more discs to the shopping cart we got a message offering 50% off when converting 10 or more discs. So why not add more? That's just $1 per SD conversion!
Using VUDUToGo turned out be a lot of fun. And, in less than an hour we added 10 titles to our VUDU account for just $10. (Not counting the freebie!)
The other great thing about the service is you don't have to download any of the movies right away (thanks to cloud storage). So leave a little breathing room on your hard-drive, will ya'? Happy converting!