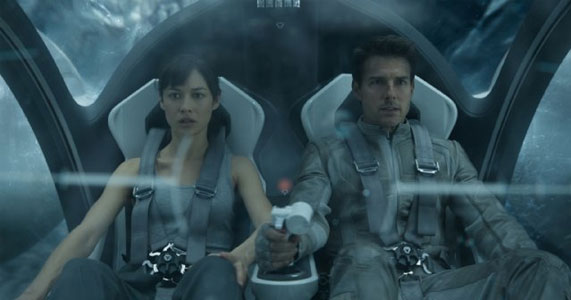 Coming off an $88M theatrical run ($180M international) Universal's Oblivion has been given an official release date on Blu-ray Disc, DVD, and UltraViolet. While the film will release early to digital download on July 23, you'll have to wait until August 6 for the physical media, On Demand access, and UltraViolet copy. Bonus material on both the Blu-ray and DVD include feature commentaries, deleted scenes, a five-part production featurette titled "Promise of a New World: The Making of Oblivion," and option to watch the film with M83 Isolated Score. The Blu-ray Combo Pack includes Blu-ray, DVD, Digital, and UltraViolet copies. The BD itself is formatted in 2.40:1 widescreen aspect ratio with DTS-HD Master Audio 7.1.
Oblivion was put up for pre-order without a release date just after releasing to theaters in April, 2013. And while it's been a couple months, we're still waiting for the official box art from Universal.
Oblivion stars Tom Cruise (Mission Impossible), Morgan Freeman (The Dark Knight Rises) and Olga Kurylenko (Quantum of Solace) and is based on Joseph Kosinski's novel of the same name.
'Oblivion' Bonus Features on Blu-ray and DVD
Feature Commentary with Tom Cruise and director Joseph Kosinski
Deleted Scenes
Promise of a New World : The Making of Oblivion —A comprehensive and thought-provoking multi-part feature covering the making of Oblivion, including:

Destiny – Looks inside the conceptualization, development and pre-production of Oblivionand the planning that went into the Herculean task of shooting the epic film.
Voyage – Follows the creation of the amazing Bubble Ship from its early design conception to its journey around the world. (Blu-ray™ exclusive)
Combat – Explores the film's ground-breaking action and death-defying stunts, all performed by one of the most popular movie stars in the world. (Blu-ray ™ exclusive)
Illusion – Focuses on the film's post-production and dazzling visual effects.
Harmony – Delves into the innovative musical world of M83.

M83 Isolated Score—Watch the entire film accompanied by the evocative music track.  
Source: Universal