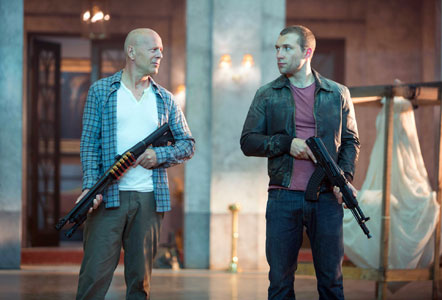 Twentieth Century Fox Home Entertainment will start selling more digital copies of films up to four weeks ahead of Blu-ray and DVD formats. This Tuesday, May 14, FOX will offer A Good Day to Die Hard in Digital HD format (a format first introduced with Ridley Scott's Prometheus), which is about 2-1/2 weeks before the Blu-ray and DVD editions hit stores on June 4. The Digital HD format, a FOX brand, will be available via the UltraViolet electronic sell-through format in upcoming Blu-ray/DVD Combo Packs.
FOX is currently offering early access to Broken City starring Mark Wahlberg and Russell Crowe weeks before the DVD and Blu-ray release date. Digital HD releases from FOX may be available up to four weeks before physical media. Other titles FOX plans to release early to their "Digital HD" brand include The Heat, Turbo, The Wolverine and The Internship.
FOX's Digital HD format is available through several outlets including Amazon Instant Watch, Best Buy's Cinema Now, Google Play, Apple's iTunes, Nook, Sony Entertainment Network, VUDU, and Xbox Video.
Source: Twentieth Century Fox Home Entertainment
Via: Home Media Magazine