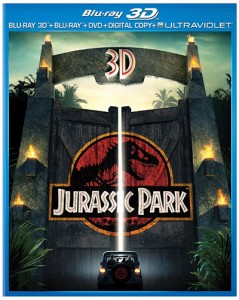 What's new on Blu-ray Disc, Digital Copy and UltraViolet this week? Many folks have been waiting for the 3D release of Steven Spielberg's blockbuster Jurassic Park. The combo edition from Universal Studios includes Blu-ray 3D, Blu-ray, DVD, Digital Copy, and UltraViolet Copy. Audio formats include DTS-HD Master Audio 7.1, as well as Dolby Digital 5.1 and DTS-HD 2.0. Extras in the edition include making of featurettes, trailers, storyboards, and a dinosaur encyclopedia among other bonus material.
Last year's theatrical release Gangster Squad starring Ryan Gosling, Emma Stone and Sean Penn is now available on Blu-ray Disc. The Combo Pack from Warner Home Video also includes DVD and UltraViolet Digital Copy. The film is formatted in 1080p with 2.40:1 widescreen aspect ratio and DTS-HD Master Audio 5.1.
The Impossible starring Naomi Watts and Ewan McGregor has been released to Blu-ray Disc. The 1-disc edition in slipcover package from Summit Entertainment also includes a license to download digital and UltraViolet copies. Video on the Blu-ray Disc is formatted in 1080p with 2.35:1 aspect ratio and DTS-HD Master Audio 5.1 soundtrack. The 2012 film is based on the true story of a family caught in the 2004 Indian Ocean tsunami. Check out our picks for the week below.
New on Blu-ray Disc, Digital Copy & UltraViolet, April 23, 2013
Jurassic Park 3D (3D Blu-ray + Blu-ray + DVD + Digital Copy + UltraViolet)
Gangster Squad (Blu-ray + DVD + UltraViolet)
The Impossible (Blu-ray + Digital Copy + UltraViolet)
Promised Land (Two-Disc Combo Pack: Blu-ray + DVD + Digital Copy + UltraViolet)
A Haunted House (Two-Disc Combo Pack: Blu-ray + DVD + Digital Copy + UltraViolet)
Great Gatsby
Made in Japan
Live at Montreux 2012 – Starring Alanis Morissette
Ken Burns: The Central Park Five
Richard III (Criterion Collection)