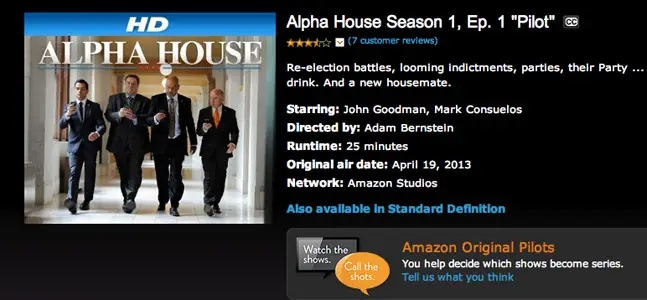 Amazon has launched 14 pilots to their Instant Video service that are available for free viewing. The titles include comedies such as Alpha House with John Goodman (The Big Lebowski) and Betas starring Ed Begley Jr. (St. Elsewhere). Kids titles include the animated Sara Solves It, and science exploration show Annebots. All of the pilots are available to stream in both Standard and High Definition resolution, and can be viewed on your PC, Kindle HD, or other compatible device. (You will, however, need an updated version of Flash.)
Amazon is offering the videos free-of-charge — no Prime Instant Video required. When clicking on one of the pilots you'll notice a message above the "Watch Now" button that says "You own this video." It's a smart way for Amazon to spark interest in the pilots, produced by Amazon's movie and TV network, Amazon Studios.
Check out the slate below. And, here's a link to all the Amazon Pilots now available for free viewing.
Comedys
Alpha House
Betas
Browsers
Dark Minions
Onion News Empire
Supanatural
Those Who Can't
Zombieland
Kids Shows
Annebots
Creative Galaxy
Positively Ozitively
Sara Solves It
Teeny Tiny Dogs
Tumbleaf