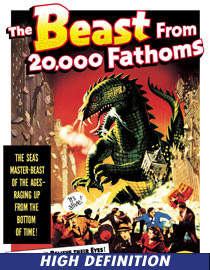 Want to be successful on the internet these days? Try a niche. Warner Bros. has just done that with the launch of Archive Instant, an online library of classic TV shows and films from Warner Bros., MGM, Allied Artists and other studios. The service, which works much like Netflix and Redbox Instant, offers on-demand and unlimited streaming of titles to your PC or Roku player. A nice feature of Archive Instant is the availability of extra content (mainly theatrical trailers) added to some titles in the catalog.
In the Archive Instant library you'll find classic titles such as "Planet Earth" (1974) created and written by Gene Roddenberry ("Star Trek"). The film takes you to the 22nd century where men are enslaved and impotent (arggh!).
You'll also find classic television shows such as the "Adventures Of Superman" (1952) starring George Reeves as Superman. Warner Bros. lists episodes 1-13 of Season 1 in the catalog. The show eventually went on to broadcast 104 episodes from 1952 through 1958.
You might also check out "The Beast From 20,000 Fathoms" (1953) in which a ice-age rhedosaurus is resurrected when an atomic bomb melts part of the Artic. The film, inspired by Ray Bradbury's "The Fog Horn," is one of the titles available to stream in high-definition.
Other titles available in HD include the classic Antonioni film "Blow Up (1966), the movie adaptation of the Broadway hit "The Bad Seed" (1956), Jacques Tourneur's "Cat People" (1942), and "Across The Pacific" (1942) starring Humphrey Bogart.
As of the official public launch (previously in closed beta), you'll only be able to stream the films in high-definition through a Roku set-top box. If watching on a PC, you'll need to have Microsoft Silverlight installed. (A note to mac users: In Safari, you'll need to have 3rd party cookies enabled.)
Warner Bros. is currently offering a free two-week trial of the service that costs $9.99 per month. However, you'll need to provide a credit card to try out the service.