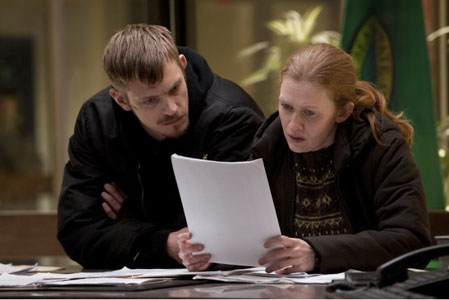 Season 3 of The Killing (after previously being cancelled) will premiere this May on AMC and Netflix has already snagged exclusive streaming rights. The series will be available only 3 months after Season 3 concludes, a shortened window no doubt attributed to Netflix's involvement in getting the series back on the slate.
Netflix is already streaming Season 1 and Season 2 of The Killing in the US, and the company says those seasons will be available before Season 3 launches in all 40 countries where Netflix is available.
"Our agreement with Netflix played an extremely significant part in the studio's strategy that enabled us to bring The Killing back for a third season," said David Madden, president of Fox Television Studios.
"We're excited to see The Killing back on TV and we're especially proud to bring Season 3 to our members so soon after it premieres on AMC," said Ted Sarandos , Chief Content Officer, Netflix.
The Killing Season 3 will star Mireille Enos, Joel Kinnaman, and Liam James. Set in Seattle, WA, seasons 1 and 2 followed a police investigation of the murder of a young girl named Rosie Larsen. After the case was closed in Season 2, the new season will start with the investigation of a runaway girl, leading to a string of murder cases.