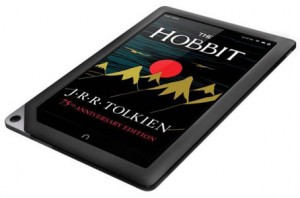 Last Friday NOOK customers were offered the OfficeSuite Professional 7 app from MobiSystems for free. The $14.99 app launched the expansion of Barnes & Noble's NOOK Free Fridays, where you can download a featured paid NOOK Book (and now app) every Friday. Last Friday's free book was David Rhodes' triumphant Driftless. Supporting NOOK models include NOOK HD, NOOK HD+, NOOK Tablet and NOOK Color. Free Friday titles will be announced on NOOK's Twitter page, as well as Facebook and the NOOK Store. 
"NOOK Free Fridays is the perfect way to highlight our vast offering of exciting content, including apps for gaming, entertainment, productivity and more available in the NOOK Store while offering our customers a great value," said Claudia Romanini, VP of NOOK Apps, NOOK Media, LLC.
NOOK HD 7″ tablets start at $199 (8GB), while the 9″ NOOK HD+ starts at $269 (16GB).
Source: Barnes & Noble