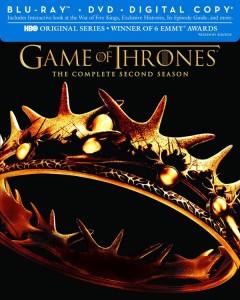 What's new on Blu-ray Disc and UltraViolet Digital Copy this week? Let's start with the Second Season of Game of Thrones. The 7-disc boxed set from HBO contains all 10 episodes of the series along with several featurettes, commentaries, character profiles, in-episode guide and more. You also get copies of the episodes on DVD (2 of the 7 discs are DVD), as well as UltraViolet-enabled Digital Copies.
The thrilling drama Argo is also now available on Blu-ray Disc in a Combo Pack that includes BD, DVD, and UltraViolet Digital Copy. The pack also contains extra bonus material such as the feature length picture-in-picture "Eye Witness Account," commentaries, and three other featurettes.
And, for those of you starved for more 3D content, Top Gun has been remastered and converted to 3D. The Two-Disc Combo includes Blu-ray 3D, Blu-ray and Digital Copy (which is actually UltraViolet, but not advertised on the package). Check out our picks for the week below.
New on Blu-ray, DVD and UltraViolet Feb. 19, 2013
Game of Thrones: The Complete Second Season
Argo (Blu-ray/DVD Combo+UltraViolet Digital Copy)
Battlestar Galactica: Blood & Chrome (Unrated Edition -Two-Disc Combo Pack: Blu-ray + DVD + Digital Copy + UltraViolet)
Top Gun (Two-Disc Combo: Blu-ray 3D / Blu-ray / Digital Copy)
Monsters, Inc. (Five-Disc Ultimate Collector's Edition : 3D Blu-ray / Blu-ray / DVD Combo + Digital Copy)
Atlas Shrugged II: The Strike
The Terminator (Remastered)
On the Waterfront (Criterion Collection)
Anna Karenina (Two-Disc Combo Pack: Blu-ray + DVD + Digital Copy + UltraViolet)
Best in Show