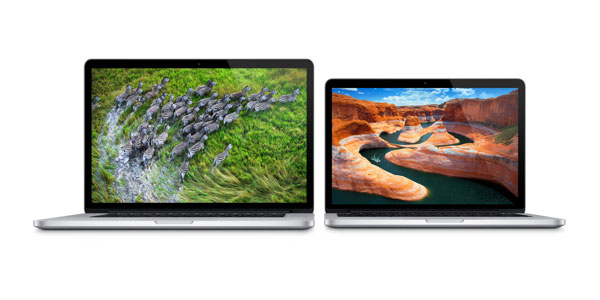 Have you been tempted to get an Apple MacBook Pro with Retina display but not into dropping an extra $600-$800 bucks? Apple today announced "updated" pricing on 13-inch MacBook Pro models with 128GB or 256GB flash storage. The new prices start at $1,499 for the 13″ Retina display with 2.5Ghz processor and 128GB flash storage, and $1,699 for the 13″ with new 2.6Ghz processor and 256GB flash storage. Of course, the flash storage capacities are upgradable to up to 768GB. Both models share the same Intel HD Graphics 4000 card and built-in 7-hour battery.
With regard to the larger 15″ MacBook Pro with Retina display, Apple has upgraded the processor to faster 2.4Ghz and 2.7Ghz quad-core processors and up to 16GB of memory. Those models are priced at $2,199 for 2.4Ghz with 8GB memory and 256GB storage, and $2,799 for 2.7Ghz with 16GB storage. All mentioned prices reflect base models without any custom configuration.
Also announced today, the Apple Air with 256GB of flash memory has a lower price of $1,399.