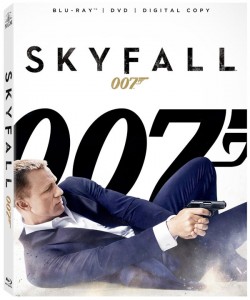 If you're a James Bond fan, this week brings lots of goodies on Blu-ray Disc starting with the release of Skyfall. Although there aren't a ton of extras to supplement the title, the two-disc combo pack includes a BD, DVD, and UltraViolet Digital Copy. On cue with Skyfall and previously unavailable on Blu-ray (with the exception of Best Buy exclusives), are several Bond titles you might need to add to your hi-def collection including Diamonds Are Forever (1971), Octopussy (1983), GoldenEye (1995), Tomorrow Never Dies (1997), The Living Daylights (1987), You Only Live Twice (1967), On Her Majesty's Secret Service (1969) and Spy Who Loved Me (1977). The single BDs from MGM don't offer any special features but we sure like some of the new box art (see a few samples below). It's no coincidence either that Bond 50: The Complete Bond Collection is on sale this week for $129 (List: $299).
Other new Blu-ray releases this week include Weeds: Season Eight, The Perks of Being a Wallflower, and The Sessions. Silent Hill: Revelation and The Man with the Iron Fists also hit shelves, each title offered in a Two-Disc Combo Pack with BD, DVD, and UltraViolet Digital Copy.
Check out our picks this week below. And, here's a link to all new Blu-ray Disc releases available at Amazon.
New Blu-ray & UltraViolet releases, Feb. 12, 2013
Skyfall
Diamonds Are Forever (1971)
Octopussy (1983)
GoldenEye (1995)
Tomorrow Never Dies (1997)
The Living Daylights (1987)
You Only Live Twice (1967)
On Her Majesty's Secret Service (1969)
Spy Who Loved Me (1977)
Weeds: Season Eight
The Man with the Iron Fists (Two-Disc Combo Pack: Blu-ray + DVD + Digital Copy + UltraViolet)
Silent Hill: Revelation (Two-Disc Combo Pack: Blu-ray + DVD + Digital Copy + UltraViolet)
The Perks of Being a Wallflower
The Sessions
Thieves
The Kid with a Bike (Criterion Collection)