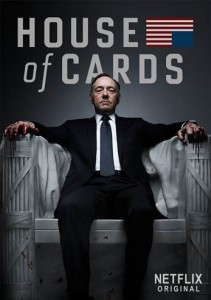 In the lead up to this Friday's premier of their new episodic political thriller, House Of Cards, Netflix has released more new trailers on their website in addition to the first that hit YouTube earlier this month.  Formerly a subscriber-only glimpse of the new series, the trailers reveal a bit more about characters such as the vengeful and merciless Congressman Francis Underwood (Kevin Spacey), his wife Claire Underwood (Robin Wright), reporter Zoe Barnes (Kate Mara) and others.
The series, produced by David Fincher, Spacey, series developer Beau Willimon, writer Eric Roth, et. al., is an Americanized riff on a 90s BBC series of the same name.  Coming across the pond, the heavy-handed political wheelings and dealings (now located in Washington, D.C.)  have the faint aura of the same greed, sex and corruption showcased on the recently reincarnated Dallas via network.  Yet, House Of Cards 13-episode season seems geared toward capturing viewers with more refined cable show tastes who enjoy their wicked antiheros uncensored.
The February 1st premier date will feature not only the pilot episode (the way cable and network would roll out a series),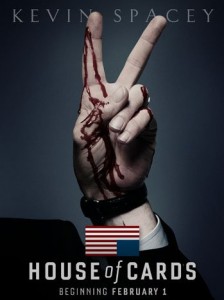 but rather feature the entire 13-episode run for marathon viewing (Fincher fans might as well know he directed only the first two episodes).  You can't say that Netflix doesn't know it's customers, as marathon (or "binge") viewing has becomes something of a trend for younger viewers and VOD subscribers.  Not having to wait (and be patient for) the next episode has its advantages and disadvantages depending on the media guru discussing the trend, but it's a fairly safe bet that dumping every episode into the queue won't alienate existing Netflix subscribers.
The show is already getting very good reviews, but whether current Netflix subscribers and new subscribers drawn to the show embrace the series remains to be seen.  Netflix had a minor hit with subscribers for a foreign show it acquired (Lilyhammer) and will soon be rolling out a revamped Arrested Development (made to appease an existing, hardcore fanbase) as well as the Eli Roth produced horror series Hemlock Grove and Jenji Kohan's comedy series Orange Is the New Black. 
Netflix's renewed focus on giving its streaming subscribers premium quality content may be a powerful incentive for potential subscribers wary of the still-dominant VOD service and who have often hesitated to join for lack of new content. It's a smart gamble that may finally take Reed Hastings' sometimes floundering company off of Wall Street's deathwatch list while giving the company stronger betting hand against content producers who have long held the aces in regards to Netflix's library of shows.