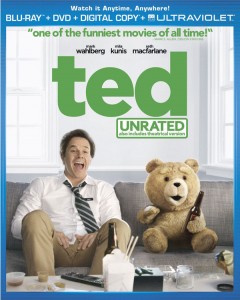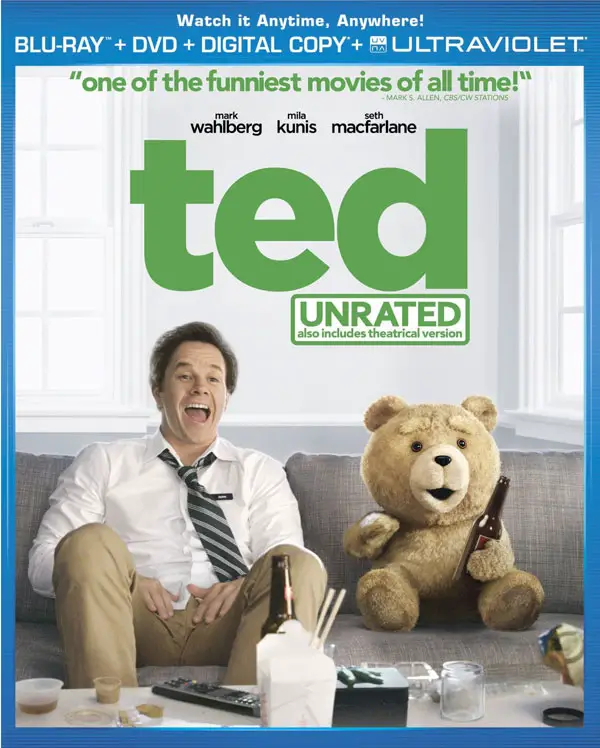 It's the holiday season and there are several anticipated Blu-ray titles hitting shelves that make great stocking stuffers. First off, Ted, the adult comedy that looks like a kid's movie because it co-stars a teddy bear but actually carries an R rating, is available in a Blu-ray Combo Pack that includes BD, DVD, Digital Copy, and UltraViolet copy to download from the cloud. Ted stars Mark Wahlberg, Mila Kunis, and Seth MacFarlane (who also directed and co-wrote the screenplay). The Blu-ray 2-Disc Combo retails for $34.99 but is now available at Amazon for $19.99.
The Bourne Legacy (also from Universal) comes in the same 2-disc combo configuration as Ted, with Blu-ray, DVD, Digital copy, and UltraViolet copies. The film stars Jeremy Renner with Rachel Weisz and is the fourth film in the Bourne franchise. The disc combo includes commentaries, deleted and scenes, BD-Live, and quite a few featurettes. The Bourne Legacy (MSRP $34.99) is also available for $19.99 from Amazon.
Ice Age: Continental Drift is a great family disc to have at home for those times when you need a break. The film (enjoyable by kids and grownups alike), comes in both a 2-Disc edition with Blu-ray, DVD and Digital Copy, and 3-Disc edition that includes Blu-ray 3D, Blu-ray, DVD, and Digital Copy. Ray Romano, Denis Leary, and John Leguizamo are among the all-star cast providing voiceovers for the film. Ice Age: Continental Drift Blu-ray 3D Combo Pack carries an MSRP of $49.99 but Amazon has got it for $24.99. The 2-Disc edition lists for $39.99 but is currently selling for $21.99.
Check out our picks below. And, here's a link to all new Blu-ray & UltraViolet releases this week.
New this week on Blu-ray, DVD, and UltraViolet  of Dec. 11, 2012:
Ted (Two-Disc Combo Pack: Blu-ray + DVD + Digital Copy + UltraViolet)
The Bourne Legacy (Two-Disc Combo Pack: Blu-ray + DVD + Digital Copy + UltraViolet)
Ice Age: Continental Drift
Ice Age: Continental Drift (3D Combo Pack)
Quebec Magnetic
Futurama: Volume 7
Following (Criterion Collection)
Girls: The Complete First Season (Blu-ray/DVD Combo + Digital Copy)
Dick Tracy (Blu-ray + Digital Copy)
Mankind: The Story of All of Us
The San Francisco Giants: 2012 World Series Collector's Edition
The Qatsi Trilogy (Criterion Collection)
Babes in Toyland
Les Miserables
The Island (Blu-ray/DVD Combo)