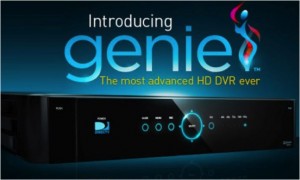 DIRECTV recently announced its latest whole-home solution, the Genie HD DVR. The Genie is an upgraded version of DIRECTV's HR34 DVR with a major software upgrade to include a feature called Genie Recommends. The Genie Recommends service automatically records programming based on your current viewing habits. The new hardware from DIRECTV looks to be a direct competitor to Dish Network's Hopper DVR. Let's take a deeper look into the Genie HD DVR.
Genie and Genie Mini bring some great DVR features for users:
• A 1TB hard drive, which allows for up to 200 hours of HD programming or up to 800 hours of SD programming.
• Five receivers, allowing viewers to record up to six simultaneous programs, including a Video On Demand download.
• Control up to eight televisions through the use of a Genie Mini device. Each television will have full DVR control, and the same show can be streamed to up to four televisions at the same time.
• Picture-in-picture services allowing viewers to watch two shows at the same time on a single television.
• Genie recommends feature records shows you might like based on what you already watch
Many homes have three or more televisions, which can result in scheduling conflicts, particularly during primetime programming. Traditional DVRs have only allowed two programs to be recorded at the same time, meaning someone was frequently left out when it came to watching their favorite show.
Genie from DIRECTV eliminates virtually all scheduling conflicts by letting viewers record up to five programs at the same time, making them available for playback at any time, on any Genie Mini television in the house.
Available now to new and existing subscribers, DIRECTV offers the Genie for $299 and the Genie Mini units for $99.
For subscribers not interested in that type of investment, DIRECTV will give you a Genie and up to four Genie Mini units in exchange for signing a new or extended service agreement with them. Additional Genie Mini units can be purchased for $49 each.
Subscribers using the new Genie HD DVR will pay an additional $20 per month for "Advanced Receiver Service" but can cut that in half by signing up for automatic monthly billing and payment.
This guest post is from Justin Ruiz who writes about TV, Technology, Sports and Marketing for USDirect.