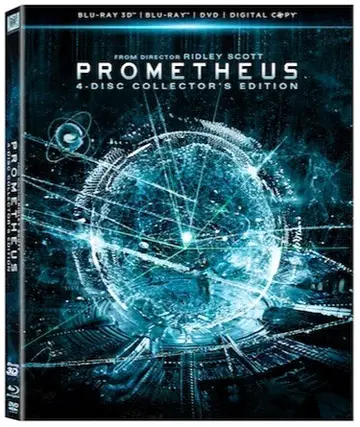 Maybe you're tired of hearing about Prometheus, but the latest news on the release of Ridley Scott's newest film has got to pique your curiosity about how good this Blu-ray release will be. The movie was quite beautiful in terms of effects and cinematography. But in terms of script, they blew it. Nevertheless, FOX's latest revelation is the Prometheus Blu-ray editions will contain a whopping 7 hours of extra footage (hey, they gotta sell this thing somehow), which includes an alternate opening and ending, deleted and alternative scenes, access to "Peter Weyland's Files" and commentaries. There's also a Weyland Corp. Archive Second Screen iPad app that seems to be getting as much attention as the disc itself.
Prometheus will be available in a 4-Disc Collector's Edition (with Blu-ray 3D) and 2-Disc Blu-ray Combo Pack, which Amazon currently has priced at $29.99 and $24.99, respectively. Prometheus will hit retail shelves on Oct. 9, 2012. Pre-order now
from Amazon or wait 'till the stores open on Tuesday.
By the way, Promotheus is already available to purchase digitally, which is a first for FOX who decided to beat the title to the shelves by offering a download in HD for $14.99 (which is significantly less than the normal $19.99 for new releases in HD quality).