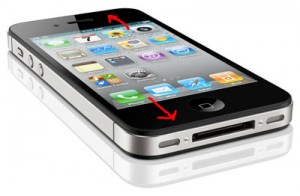 It's just about confirmed that the iPhone 5 will have a larger 4″ display. Reuters reported today from a briefing in Tokyo that electronics manufacturer Sharp will be shipping displays in late August, presumably for the iPhone 5. And, a Reuters source has revealed the shipment includes a larger 4″ display. Of course, nothing is confirmed except for the shipment itself, as Sharp wouldn't divulge any details on size, technology, or what model the display will be used for.
Speculations may be that the display could be thinner than the current 3.5″ size and may embed touch technology into the LCD rather than use a touch-screen layer used in the iPhone 4. The display could also use Sharp's IGZO oxide semiconductor technology, which uses less energy and increases pixel transparency.
Previously, two videos were uploaded to the web that supposedly show the iPhone's new chassis, display, smaller dock, and possible headphone mount on the bottom of the phone. Of course, those videos could simply be production models and not final designs.
Apple plans to reveal new products, in time for the holiday season, on Sept. 12, 2012.
Source: Reuters