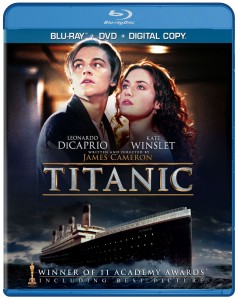 Titanic
on Blu-ray, 3D, and DVD now available.
Order Now!
Twentieth Century Fox Home Entertainment has released the cover art for the upcoming Blu-ray 2D release of Titanic on September 14th, 2012 (as well as the re-issue on DVD). Titanic will also be released to Blu-ray 3D, but the official cover art hasn't been released yet. The four-disc 2D Blu-ray/DVD combo pack with Digital Copy and the four-disc 3D Blu-ray/DVD combo pack with Digital Copy will come with over 2 ½ hours of new bonus footage, including commentary from director James Cameron, deleted scenes, two new documentaries (Reflections on Titanic, Titanic: The Final Word with James Cameron), construction timelapse, and galleries.
[UPDATE] Fox has released new cover art for Titanic on Blu-ray, Blu-ray 3D, and DVD. See below and let us know what you think in the comments!