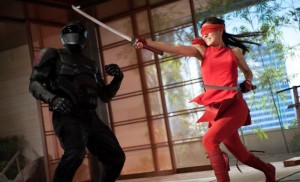 Last week Paramount and Hasbro broke the news that G.I. Joe: Retaliation would be postponed for 9 months in order to convert the film to 3D. The announcement certainly disappoints moviegoers looking forward to the film that stars Dwayne Johnson, Channing Tatum and action veteran Bruce Willis, but will the 3D conversion be worth the wait? According to Paramount the film wasn't even shot in 3D, forcing the studio to reshoot some scenes in 3D and convert the rest of the footage. Studios have certainly been getting a second bang for their buck by converting films to 3D. Look at Star Wars and the upcoming Finding Nemo as examples.
"It is increasingly evident that 3D resonates with movie-goers globally and together with Paramount, we made the decision to bring fans an even more immersive entertainment experience," said Brian Goldner, Hasbro's President and CEO.
The new scheduled release date for G.I. Joe: Retaliation is March 29, 2013. Let's see if Paramount can make the new date given the seemingly large amount of 3D work that has to be done.