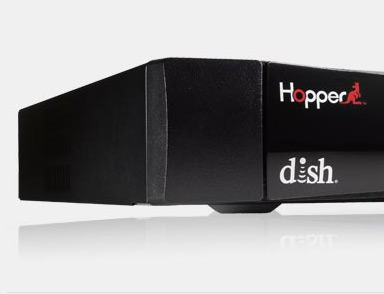 Dish really embraced the beauty of the kangeroo with the official launch of their whole-home HD DVR called the "Hopper," which links to child set-top-boxes called "Joeys" throughout your home. Dish says the Hopper lets you record up to 6 HD channels at once during primetime, but really what it's doing is using Dish's PrimeTime Anytime feature to let you access primetime shows on demand for up to 8 days (although you can "Save" them to your library). The shows will only be available in HD if your local broadcasts are HD. So in a nutshell, you can get your Hopper to store 6 HD channels at once during primetime, but really only two of those channels are outside the local lineup. You can also stream four HD programs to different TVs at the same time. And, the 2 terrabyte hard drive is said to store up to 250 hours of HD content.
Other features of the Hopper include Seek & Record, support for Slingbox, SRS TruVolume (which normalizes audio levels – especially useful in turning down those loud commercial breaks), and a Remote Control Locator which requests an audio signal from your remote control from the Hopper. You can also do the record, pause, and change rooms dance just like those DIRECTV commercials boast.
The whole-home Hopper system costs an extra $10 per month for the Hopper DVR, and $7 for each additional Joey. Dish says you get the Hopper free plus three Joeys if you subscribe to the America's Top 200 package ($24.99 per month) or higher. Sounds like a deal to me. Let's see how Dish's "Hopper" holds up in the ring with DirecTVs Whole-Home DVR.