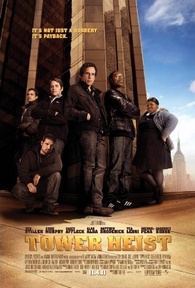 Universal's 2011 comedy Tower Heist has been announced for release on Blu-ray Disc with UltraViolet copy. And, not only will the Blu-ray Combo Pack include a cloud-based UltraViolet copy, a digital copy and standard-def DVD will also be part of the set. Enough formats for ya? If you're saying goodbye to physical discs you'll be happy to know the movie will also be released for Digital Download.
The Tower Heist Blu-ray Combo Pack comes with plenty of extras as well, including two alternate endings, deleted scenes, gag reel, commentary, video diary, the extra feature "Plotting Tower Heist," pocket BLU, and Universal's Second Screen which allows interaction with the film via a WiFi-connected tablet or computer.
Eddie Murphy & Ben Stiller star in Tower Heist, along with Casey Affleck, Téa Leoni, Alan Alda, and Matthew Broderick. The Blu-ray Disc Combo Pack and Digital Download of the film will release on Feb. 21, 2012.