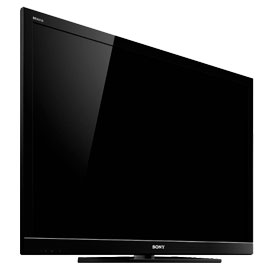 Sony has made a statement about certain Bravia HDTVs that might overheat and ignite internally due to a faulty component. The "rare" occasions were reported in Japan where in some cases the overheating burned a hole through part of the HDTV's cabinet. The Bravia LCD models with the suspect component include KDL-40V3000, KDL-40VL130, KDL-40W3000, KDL-40WL135, KDL-40XBR4, and KDL-40XBR5. You can check the back of your TV or warranty card for confirmation of model number.
Sony isn't calling for a complete recall of the sets. Rather, those who own the particular televisions are eligible for a free evaluation by a service technician. What's troubling about the statement is Sony's mention of "those who have a covered television." Does that mean if your 1-year parts & service warranty is up you're on your own with a television that may ignite?
Sony should release more information on the component and specific symptoms so customers might find another resolution if their Bravia TV is no longer covered. Hopefully, the price of the part and replacement will be affordable. In the meantime, Sony says turning off your TV while not in use is advised.
You can schedule a service visit on the Sony website http://www.updatemytv.com/.