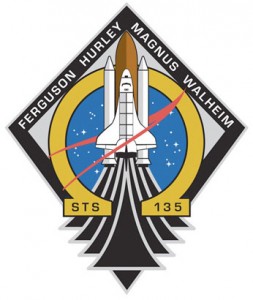 NASA says that Space Shuttle Atlantis is still scheduled for launch on Friday morning, even though severe thunderstorms passed over the launch pad area and lightning struck a water tower 515 feet away. The Atlantis crew didn't find any damage or system problems, and so the launch is still on schedule to take place on July 8 at 11:26 a.m.
Another review of shuttle and launch systems, which includes the External Tank, Solid Rocket Boosters, Space Shuttle Main Engines, Ground Support Equipment, and shuttle itself will take place at 1:30 a.m.. If everything is determined to be A-OK, the fueling of the shuttle will begin an hour later.
The STS-135 is the final flight of the Atlantis, and the final mission of the Space Shuttle. The shuttle will carry the Raffaello multipurpose logistics module to carry supplies and logistics to the International Space Station. The Atlantis will be the 37th flight to the International Space Station.
The crew is made up of Chris Ferguson (Commander), Doug Hurley (Pilot), Rex Walheim (Mission Specialist), and Sandy Magnus (Mission Specialist).
You can watch the launch on the website NASA.gov or on HDNet (check your channel guide.)
UPDATE: Shuttle Atlantis successfully lifted off at 11:29 a.m. Eastern Time.