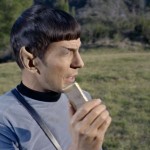 Netflix just added several Star Trek series to their lineup including for the first time commerical-free streaming episodes of Star Trek: The Next Generation, Star Trek: Voyager, and Star Trek: Enterprise. The additions also mark the first time "TNG" has been available in a digital format. So how much Star Trek can you watch?
We calculated close to 400 hours. It might take you a lifetime to get through all these episodes but at least you won't have to sit through commercials.
'The Next Generation' (1987-1993) has seven seasons available to stream for a total of 177 episodes. 'Voyager' (1995- 2000) also spans seven seasons for a total of 168 episodes. And 'Enterprise' (2001-2004) has a total of 97 episodes (which are available in HD.)
Maybe 60's Star Trek is more your style? Netflix has queued up close to 80 episodes of 'The Original Series' from from '66, '67 and '68. The classic episodes are also available in HD quality (although you'll be looking at a 4:3 square format).
We should also mention that on October 1, Star Trek: Deep Space Nine is expected be added to the Netflix streaming library.